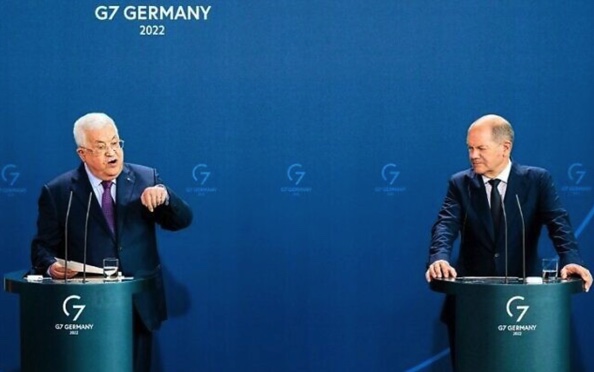 In The News
In Berlin, Abbas says Israel committed 'holocausts'; Scholz grimaces but is silent
Palestinian Authority President Mahmoud Abbas caused shock in Germany Tuesday when, standing beside German Chancellor Olaf Scholz in Berlin, he accused Israel of committing "holocausts" against Palestinians over the years.
Scholz did not react verbally to Abbas's comment in the moment, though he grimaced at the use of the word, which Abbas uttered in English. Scholz later said the use of the term in such a context was "unbearable."
Reacting to the incident, Israeli Prime Minister Yair Lapid called Abbas's comments "a moral travesty" and "a terrible distortion."
Abbas made his remarks when the two spoke to the media after holding a meeting on Middle East issues.
Abbas was responding to a reporter's question about the upcoming anniversary of the Munich massacre half a century ago. Eleven Israeli athletes and a German police officer died after members of the Palestinian militant group Black September took hostages at the Olympic Village on September 5, 1972. At the time of the attack, the group was linked to Abbas's Fatah party.
Read More: Times of Israel