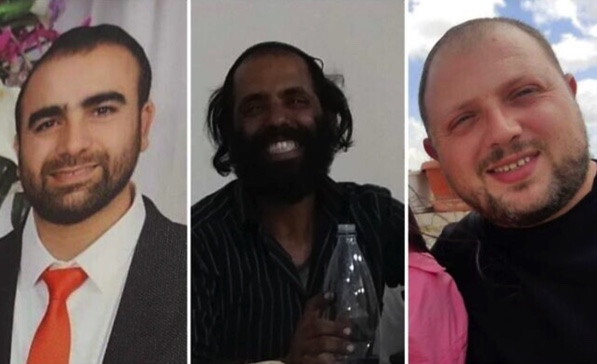 In The News
'Impossible to comprehend': Thousands at funerals for 3 killed in Elad terror attack
Yonatan Havakuk, Oren Ben Yiftah and Boaz Gol, the three victims of the terrorist attack in Elad, were laid to rest on Friday afternoon.
A joint funeral procession began at 12:30 p.m. at the site of the deadly attack the night before at Ibn Gabirol Square in the central city.
Ben Yiftah, 35, a driver who was working in Elad for an event at the time of the attack, was buried in Lod. Havakuk, 44, a resident of Elad, was buried in Petah Tikva while Gol, 49, also from Elad, was laid to rest in Jerusalem.
The three men were murdered Thursday evening by two Palestinian terrorists who attacked a crowd of people with an axe and a knife near a park in the religious city of Elad towards the end of Israel's Independence Day. At least seven others were wounded in the attack, including three seriously.
The deaths bring to 19 the number of people killed in terror attacks against Israeli targets since March, in the worst spate of terrorism for years.
The two terrorists — identified by police as  As'ad Yousef As'ad al-Rifa'i, 19, and Subhi Emad Subhi Abu Shqeir, 20 — remained at large as of Friday afternoon.
Thousands of mourners turned out to pay their final respects to the three men, who left behind 16 children between them — six to Ben Yiftah and five each to Gol and Havakuk.
Read More: Times of Israel