Israel Defense Force (IDF)
IDF, US wrap up air defense exercise; THAAD anti-missile system to leave Israel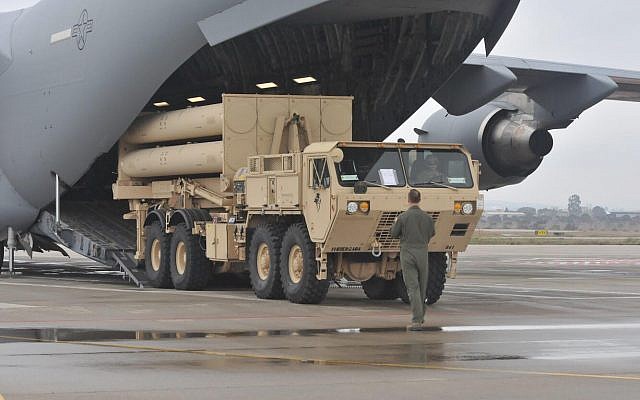 The Israel Defense Forces and American military on Sunday completed a four-week air defense exercise that saw the deployment of the United States' most advanced missile defense system in Israel for the first time.
On March 4, the US European Command (US EUCOM) deployed the Terminal High Altitude Area Defense (THAAD) system, along with approximately 250 officers and soldiers, in southern Israel.
Since then, some 150 Israeli Air Force personnel, mostly reservists, have trained alongside their American counterparts, learning how to work with the THAAD system, which is designed to intercept short- and medium-range ballistic missiles, and integrate it into Israel's air defense array, according to Col. Guy Amosi, deputy commander of the IAF's Megiddo unit, which led the joint exercise.
"The THAAD was deployed in Israel, we did a month of exercises with it. At the end of this month, it will go back to its place, and we will have improved our air defenses," Amosi told The Times of Israel over the phone, hours before the exercise's closing ceremony.
"We learned tons," he added.
This was the first time that the THAAD system has been deployed in Israel. However, one of the X-Band radar arrays connected to the THAAD system has been stationed in Israel for over a decade, providing the Jewish state with an additional early warning system against an incoming Iranian ballistic missile attack.
"I don't know why [the US decided to deploy the THAAD in Israel]. We got an order that the system was coming," Amosi said.
Read More: Times of Israel