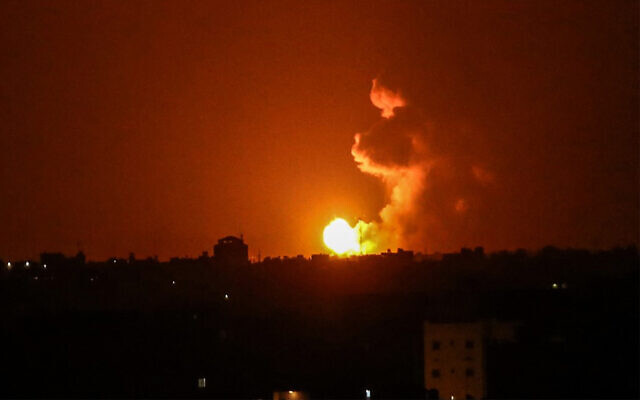 Hamas
IDF Strikes Hamas Targets in Response to Gaza Rocket Fire
The Israel Defense Forces bombed a number of Hamas targets in the Gaza Strip on Sunday night after terrorists in the enclave fired three rockets into southern Israel earlier in the evening, the military said.
According to a number of Palestinian outlets in the Strip, in several rounds of airstrikes, the Israeli military targeted a Hamas observation post, as well as "agricultural lands," east of Gaza City.
In the past, such Israeli strikes on "agricultural lands" have targeted underground rocket launchers that were buried under fields.
The IDF confirmed carrying out the strikes with attack helicopters and fighter jets, saying that among the targets were "underground infrastructure belonging to the Hamas terror group."
The military repeated its general view that Hamas, the de facto ruler of Gaza, was ultimately responsible for "what happens in the Gaza Strip and what comes out of it."
Earlier in the evening, three rockets were fired from the northern Gaza Strip into Israel, amid growing tensions along the border region appeared as the Israeli government considered annexing portions of the West Bank.
Two rockets apparently struck an open field at around 7 p.m. in the Sdot Negev region of southern Israel, local officials said, without causing injuries or damage.
About an hour later, rockets sirens again rang out in the southern Israeli Sha'ar Hanegev region as another rocket was launched out of the Strip. The rocket was intercepted by the Iron Dome anti-missile system, according to the IDF.
Read More: Times of Israel