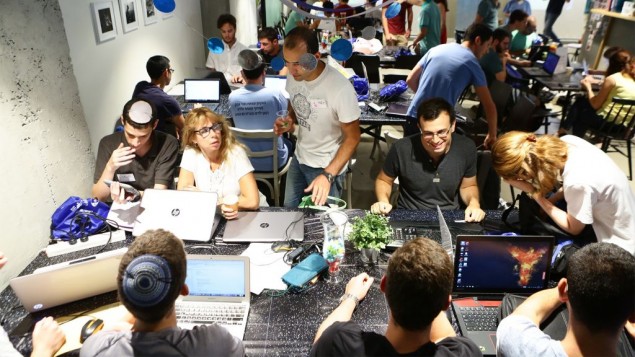 Israel Defense Force (IDF)
IDF soldiers take part in a unique collaboration to help children with autism
Soldiers, parents of autistic children, high school students and random volunteers joined forces in Tel Aviv to make life easier for people with autism and their caregivers.
Some 85 people took part in a 24-hour hackathon last month organized by OFEK, the computing unit of the IAF. Held jointly with ALUT, the Israel Society for Autistic Children, people worked in groups to put innovation in the service of disability by creating an app or computer program for the benefit of the children.
"Until recently, the only treatment available for autistic children and adults in Israel was admission into psychiatric hospital," said Arkady Gurevich, chairman of OFEK Alumni Association. "Even the necessary equipment or tools required to diagnose a patient as autistic are minimal or of poor quality due to costly-budget issues."
The project also helped OFEK soldiers meet the three goals they abide by: "networking, working better together and contributing to society," said Gurevich, who was in charge of ensuring the smooth running of the collaboration. "This is important for our soldiers as it allows us to put our knowledge into practice, all while continuing to learn at the same time, creating a lasting legacy of productive work."
Gurevich explained that the hackathon's 24-hour time frame "provides an indication of how quickly we can respond to a need through technology."
Participating groups prepare for the start of the hackathon. (Dror Sitahkol)
Prior to the hackathon, ALUT organized several meetings in which therapists, specialists and psychologists educated the soldiers and volunteers about autism and the challenges of both the children and their parents. They introduced some 100 different challenges in total, out of which ALUT chose 13.
OFEK then divided all the participants into 13 different groups with each group tackling one task.
Read More: Times of Israel