Israel Defense Force (IDF)
IDF reveals 'longest, most significant' Hezbollah tunnel on northern border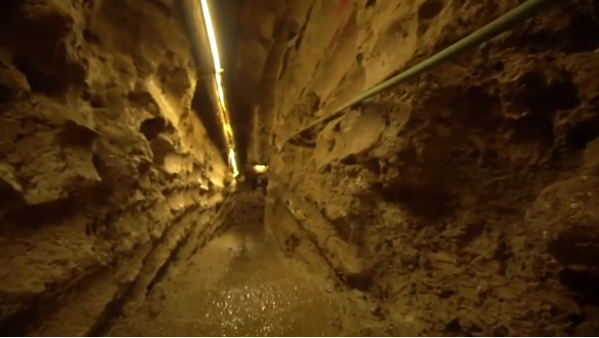 The Israel Defense Forces on Wednesday revealed a cross-border Hezbollah attack tunnel that was discovered running into Israeli territory from Lebanon during this past winter's Operation Northern Shield, saying it was "the longest and most significant" subterranean passage found in the effort.
The military released the additional details about this tunnel — one of six that the it said it found during the operation — ahead of its planned destruction.
The army said the tunnel was dug to a depth of 80 meters (260 feet), was a kilometer (3280 feet) long and penetrated 77 meters (250 feet) into Israeli territory. It began close to the Lebanese village of Ramiya, the IDF said, with an exit close to the Israeli villages of Shtula and Zar'it.
That was a slight adjustment from the military's initial assessments of the tunnel. When it was discovered in January, the IDF said it was dug at a depth of 55 meters (180 feet) and was 800 meters (2,600 feet) long.
The IDF said the tunnel was equipped with advanced infrastructure for electricity, ventilation and communications systems, and that the passage would have taken years to complete.
Read More: Times of Israel