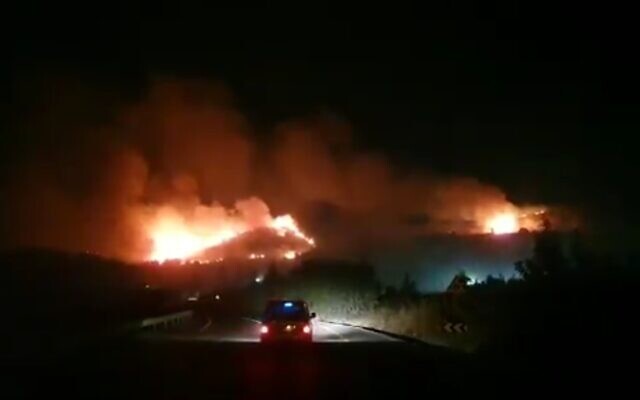 IDF renews counterstrikes as blaze from Lebanon rocket engulfs northern hillside
The IDF renewed retaliatory strikes at military targets in Lebanon late Wednesday, in response to rocket fire, which sparked fires that were still tearing through forested hillsides in northern Israel some 12 hours later.
Israeli fighter jets targeted the Lebanese border areas from which the rocket fire originated in addition to other terror infrastructure, the army said. The air force also struck a site that was used to fire rockets at Israel in the past.
The Hezbollah-affilated al-Manar reported Israeli jets struck an area in the outskirts of the southern Lebanese town of Aishiya.
"IDF attacks will continue and even intensify in the face of terror attacks against the State of Israel and its citizens," the army said in a statement.
The IDF said it held "the country of Lebanon" responsible for attacks originating from its sovereign territory, which took place as the government in Beirut undergoes its worst economic crisis in decades with the country on the brink of collapse.
Read More: Time of Israel