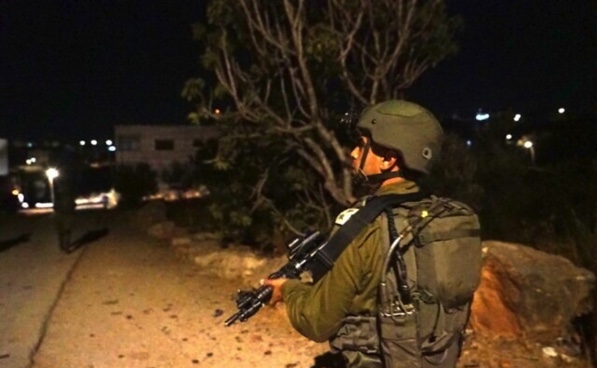 In The News
IDF, police arrest 18 Palestinians, seize weapons in overnight West Bank raids
Israeli troops operated extensively throughout the West Bank overnight Monday, arresting 18 wanted Palestinians and seizing several firearms, the Israel Defense Forces said.
The IDF said that troops spotted two suspects hurling Molotov cocktails at the West Bank settlement of Migdal Oz. Soldiers dispatched to the scene detained one of the Palestinians and found a makeshift gun in the area. Another two Palestinians were detained in nearby villages overnight.
In the Palestinian town of Yatta, near Hebron, soldiers and police officers seized a makeshift "Carlo" submachine gun, arresting one person in the process.
Border Police officers detained four Palestinians in the town of Qatanna, on the outskirts of Jerusalem, for allegedly being in possession of ammunition and dozens of weapon parts.
In the northern West Bank town of Tubas, where five suspects were arrested, the IDF said troops came under fire by Palestinian gunmen, which caused damage to a military vehicle, but no soldiers were hurt. The IDF said that rocks and Molotov cocktails were also hurled at troops in the area.
Read More: Times of Israel