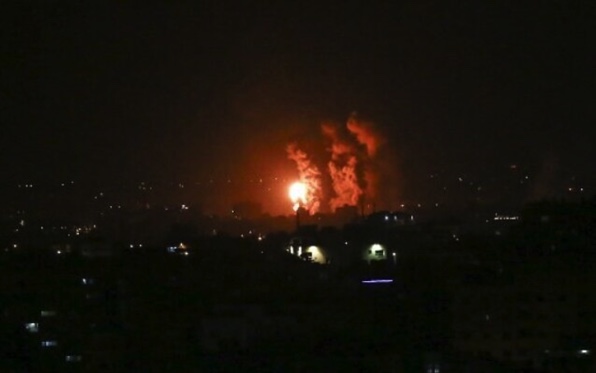 In The News
IDF hits Hamas sites during pair of overnight raids in response to Gaza rocket fire
The IDF carried out a pair of air raids in Gaza after midnight on Thursday in response to rocket fire and anti-aircraft missiles launched from the Hamas-run enclave during what appeared to be the tensest night in the Strip since last May's 11-day war.
During the exchange, the IDF said its Iron Dome missile defense system mistook gunshots for a salvo of rockets in what initially appeared to be a sign of a significant escalation. But by night's end, the army confirmed that only one rocket had been fired into Israel during the whole exchange.
That launch took place at around 10:30 p.m. on Wednesday night, with shrapnel from the rocket striking a parked car and a wall near a home in the city of Sderot. Hundreds of ball bearings that were loaded into the rocket were found at the scene.
Less than three hours later, the IDF said it responded with airstrikes in central Gaza targeting a military post as well as a tunnel complex "containing raw chemicals used for the manufacturing of rocket engines." The IDF claimed its strike marked a significant blow to the rocket production process in Gaza.
Read More: Times of Israel