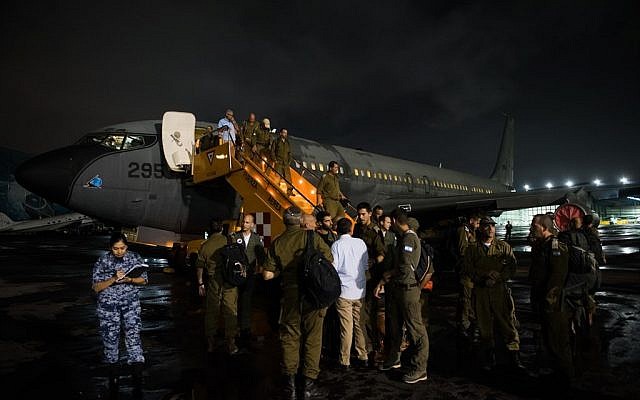 Israeli Society
IDF emergency team arrives to help quake-stricken Mexico
An IDF Home Front Command team arrives in Mexico to assist following the devastating earthquake that hit the country, September 21, 2017. (IDF spokesperson)
An IDF emergency team from the Home Front Command arrived Thursday in Mexico, where they will begin providing assistance after the Central American nation was hit by a powerful earthquake that has killed at least 245 people.
The death toll rose after Mexico City Mayor Miguel Angel Mancera said the number of confirmed dead in the capital had risen from 100 to 115. An earlier federal government statement had put the overall toll at 230, including 100 deaths in Mexico City.
On Thursday, Mexican teams were still working frantically to rescue people trapped under several buildings that collapsed. Some of the IDF team would be helping with search and rescue operations, the army said.
The Israeli delegation was made up of 71 soldiers and officers who had already begun providing assistance, an army spokesperson said, but could not yet provide details on their activities.
Walla news reported that two rescue teams were at work looking for survivors in collapsed buildings.
Earlier, the army said that apart from a small search and rescue team, the delegation was made up mostly of engineers who will help assess the structural integrity of buildings in Mexico City and other affected areas. There is no field hospital, however the army has said this could be added in the future.
Late Tuesday night, Prime Minister Benjamin Netanyahu's office said Mexico had asked Israel for aid after Netanyahu offered help.
"Netanyahu ordered that aid and a search and rescue operation be organized to leave to Mexico as soon as possible," his office said.
Read More: Times of Israel