Hamas
IDF destroys attack tunnel in Israeli territory built after 2014 war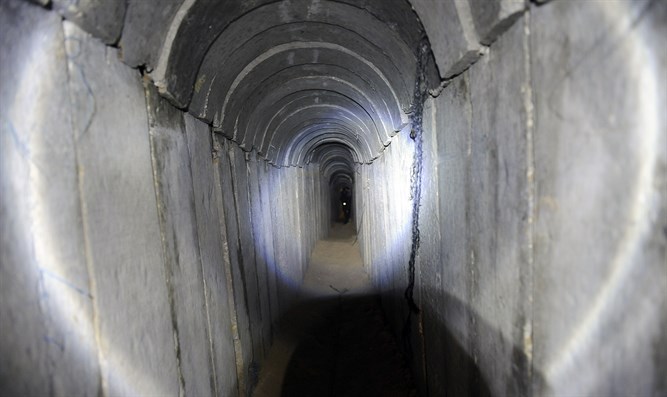 The IDF on Monday "neutralized a terror tunnel" that was discovered inside Israeli territory near the Gaza Strip and is believed to have been dug after the 2014 war, the army said.
The military said the tunnel had been under surveillance for an extended period of time and was under active construction at the time of the demolition.
The tunnel, which the IDF described as a "grave and unacceptable violation of Israeli sovereignty," started in the Gazan city of Khan Younis, crossing under the border and approaching the Israeli community of Kibbutz Kissufim, the army said.
"The tunnel was detonated from within Israel, adjacent to the security fence," the military said in a statement.
IDF spokesperson Lt. Col. Jonathan Conricus said the tunnel was approximately two kilometers away from the Israeli kibbutz. He said it did not pose a threat to the residents.
The demolition was carried out near the fence separating Israel from Gaza.
The tunnel was discovered by a new, advanced piece of technology that was being used for the first time, Conricus told reporters. He would not specify what type of equipment was used.
It was the third such tunnel that the military has said it's destroyed since the 2014 Gaza war, known in Israel as Operation Protective Edge. However, the first two tunnels, which were demolished last year, were believed to be leftovers from the 2014 conflict, whereas the tunnel that was detonated on Monday was "in progress," according to Conricus.
The destruction of the tunnel was first reported by Palestinian media on Monday afternoon. The reports said it was carried out by airstrike.
The IDF initially contradicted those reports, saying it was a "controlled demolition," but Conricus later clarified that the military would not comment on what munitions were used.
The IDF officers said it was not immediately clear who dug the tunnel, but that ultimately the Israeli army holds Hamas "accountable and responsible" as it is the governing figure in the Strip.
Hamas did not immediately comment on the demolition.
The news site Palestine Today, which is affiliated with the Palestinian Islamic Jihad terror group, reported that a number of members from the group's armed wing, Saraya Al-Quds, were incommunicado after the Israeli army destroyed the tunnel on Monday.
Conricus would not comment on the dimensions of the tunnel, specifically its depth and length. The military could not confirm that the entire tunnel was destroyed.
"The IDF does not intend to escalate the situation but stands prepared for a variety of scenarios," the army said.
The officer added that the "IDF is working above- and below-ground to thwart attempts to harm Israeli civilians and protect the relative calm in the area."
The IDF set up additional Iron Dome missile defense batteries in the area in case terror groups in the Strip fired rockets in response to the demolition.
Read More: Times of Israel