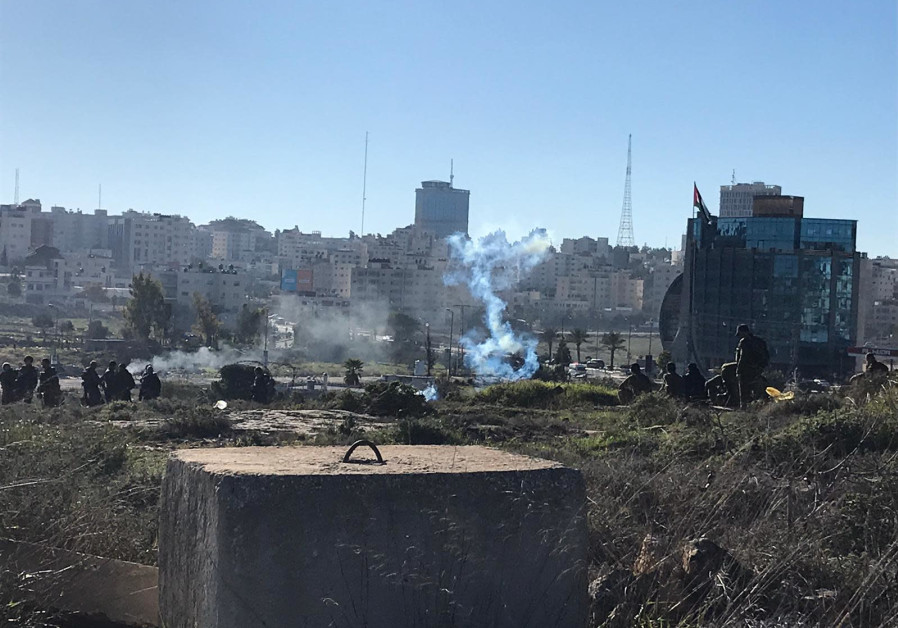 Israel Defense Force (IDF)
Hundreds clash with Israeli forces north of Ramallah
More than a hundred Palestinian demonstrators clashed with Israel forces north of Ramallah at the DCO area. The IDF and Border Police used tear gas and a bulldozer during the clashes which comes in the wake of the drive by shooting attack that killed two soldiers yesterday.
The demonstrators blocked a road leading from Al-Bireh to the DCO checkpoint which leads to Route 60. Palestinians burned tires and dumpsters and threw stones at the IDF. 
After two hours of low level clashes the IDF sent in a bulldozer and dozens of riot control forces to disperse the demonstrators. 
After 3pm, the IDF had secured and opened the road and the demonstrators retreated into civilian areas in Al-Bireh. The clashes took place near where there was an attempted ramming attack on Thursday and not far from the area on Route 60 where two soldiers were killed.
They came in the wake of a night of raids by security forces to detain Hamas activists. 
Several Palestinian ambulances evacuated youth from the scene Friday. The area of the clashes is one of frequent tension where youth often gather on Fridays when there are escalations with Israel. The low numbers of demonstrators appeared to show the fears of major violence breaking out were unfounded.
Read More: Jerusalem Post