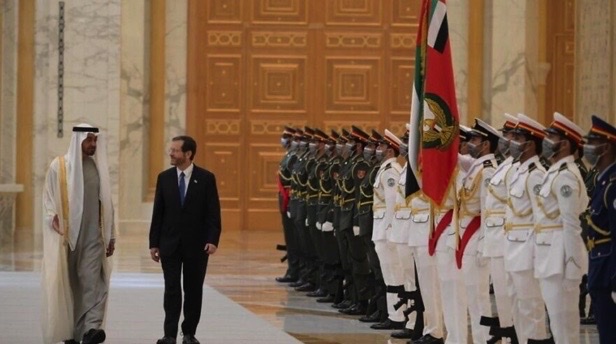 In The News
Houthis launch missile at UAE during Israeli president's visit
The United Arab Emirates intercepted a ballistic missile fired by Yemen's Houthis early on Monday, according to the UAE Defense Ministry.
The missile was intercepted right after midnight, according to the ministry. The missile debris fell in an uninhabited area, causing no damage or casualties. There was no indication as to whether the missile was aimed at Abu Dhabi or Dubai.
The attack—the third on the UAE by Houthi terrorists in the past two weeks—occurred as the country hosted Israeli President Isaac Herzog and his wife.
"We are determined to achieve our goals and strategic vision towards contributing to building a stable and prosperous region for all, and provoking us will not work," tweeted senior Emirati official Anwar Gagash in response to the attack. "We do not see the threats and fantasies of terrorist organizations based on illusions as more than a passing matter that will be dealt with in a manner that guarantees our security and national sovereignty. It is wrong for those who test the Emiratis," he added.
Read More: JNS