Israeli Society
Hoops in the Holy Land: African-American basketball players embrace Israel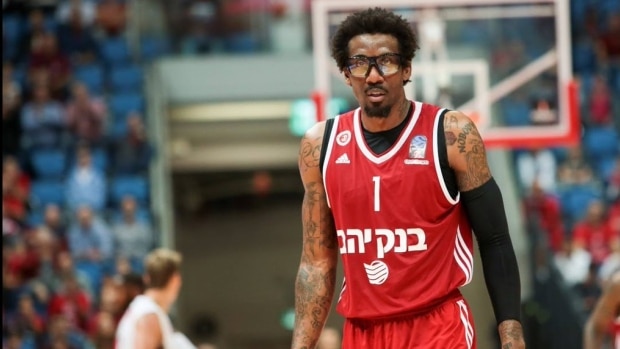 If you're a Raptors fan, you may remember a 2005 exhibition game in which Toronto became the first NBA team in 27 years to lose to Israeli powerhouse Maccabi Tel Aviv.
Star guard Anthony Parker nailed the go-ahead jumper with less than a second remaining, and the two-time EuroLeague MVP later parlayed that performance into a multi-year contract with the Raptors.
Around this time, Toronto resident David Goldstein visited Israel, where his mother holds citizenship. The Goldstein family went to see David's grandparents at their seniors' living complex.
"My grandparents had some friends over who heard that I was from Toronto and they just started going bananas over Anthony Parker," says Goldstein. "I thought, it's really interesting how passionate they are, these 80-something-year-old women who I never would have guessed would be sports fans, and I was curious to know more."
A decade later, Goldstein has turned that curiosity into a book. Alley-Oop to Aliyah was published Nov. 7.
In the last 40 years, more than 800 African-Americans have relocated to Israel to play in the Israeli Basketball Premier League. The book focuses on those players, but rarely delves into strategy or statistics.
"It's really about identity, race, religion," says Goldstein, who's now the chief operating officer for USports, the governing body for university sports in Canada. "To me, basketball's an interesting way of learning about that because you might not want to read about it on its own, but in a basketball context you might be taken by it."
The most famous example of the type of player featured in Goldstein's book is Amar'e Stoudemire, who made six all-star games and more than $160 million US in salary over 14 NBA seasons.
With his NBA career seemingly winding down in the summer of 2016, Stoudemire took his talents to HaPoel Jerusalem, an Israeli team he co-owned. The power forward, who identifies himself as a Hebrew Israelite, sold his stake and suited up for the team, winning a championship before retiring in September.
"He really took full advantage of the country while he was there. I don't think that's it for Amar'e in Israel," says Goldstein, who features Stoudemire in the book.
Still, Goldstein's intent with Alley-Oop to Aliyah wasn't to talk about Stoudemire, who's already received plenty of North American coverage. Instead, Goldstein wanted to tell the stories of Fred Campbell, Cory Carr, Deon Thomas and others who were never NBA stars, or even NBA players.
Read More: CBC Sport