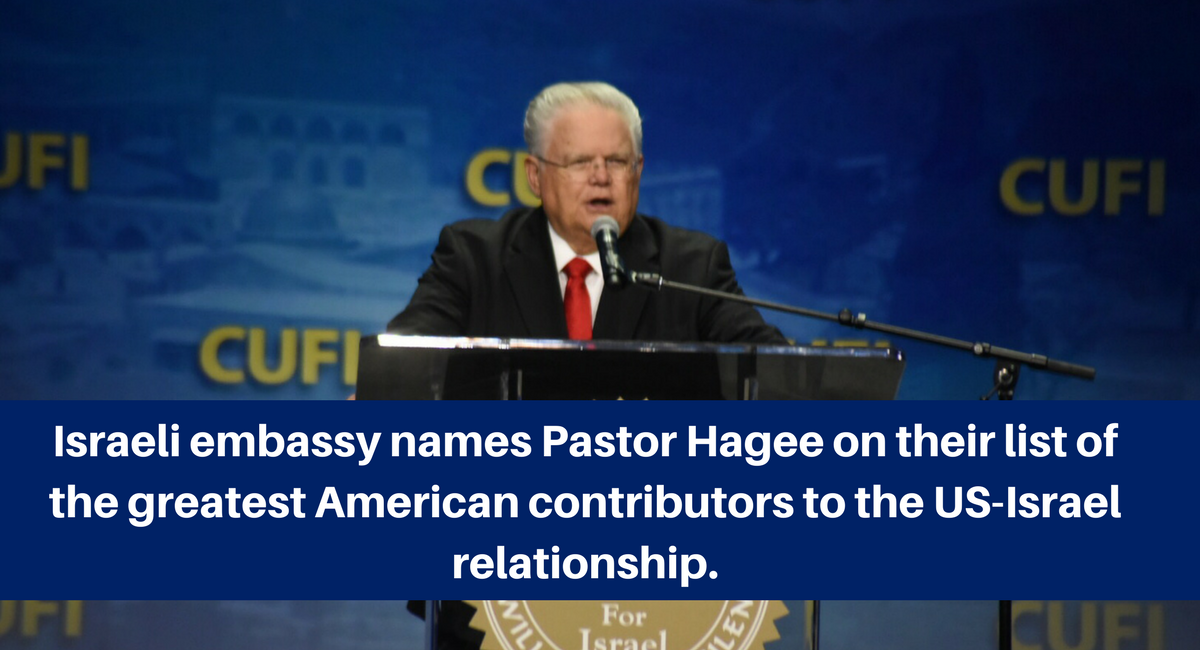 John Hagee is an evangelical pastor based in San Antonio, Texas. Having served in the ministry for more than five decades, Hagee leads a church with 20,000-plus active members. He is a Christian Zionist, who believes that the Bible commands all believing Christians to support the State of Israel and the return of the Jewish people to their ancestral homeland.
As such, Hagee has had a long and generous relationship with the Jewish state. He has visited Israel numerous times and has met with every Israeli prime minister since Menachem Begin. His organization, John Hagee Ministries, has donated tens of millions of dollars towards humanitarian causes in Israel. For example, the ministry group donated millions of dollars earmarked for enabling Jews from the former Soviet Union to immigrate to Israel.
Hagee's spirited advocacy for the Jewish state has been a constant of his career. In 1981, his church hosted its inaugural "Night to Honor Israel"—an annual event held in San Antonio every year since—that celebrates the Jewish state and stresses the importance of a strong U.S.-Israel relationship. As a mark of its great success, the 2017 dinner raised more than $2 million for Israeli and Zionist charities and organizations. Since its inception, the "Night to Honor Israel" has raised more than $100 million for Jewish charities and the Jewish state.
In 2006, Hagee founded Christians United for Israel (CUFI) to give political expression to the voices of millions of devout Christians across America who support Israel. A testament to Hagee's commitment and vision, this grassroots organization has rapidly grown and now boasts some 4 million members. CUFI has become the largest pro-Israel Christian group in the United States, and one of Israel's most significant and vital sources of support in America. In addition to helping fund initiatives geared towards supporting Israel, this group also has dedicated significant resources for combating anti-Semitism around the world. As part of his activities for CUFI, Hagee has addressed members of the United States Congress, exhorting them to support Israel in any way they can by using their positions of power within the government.
Read More: JNS