Israeli Society
Holocaust hero honored 75 years after dramatic rescue of fellow Jews from Nazis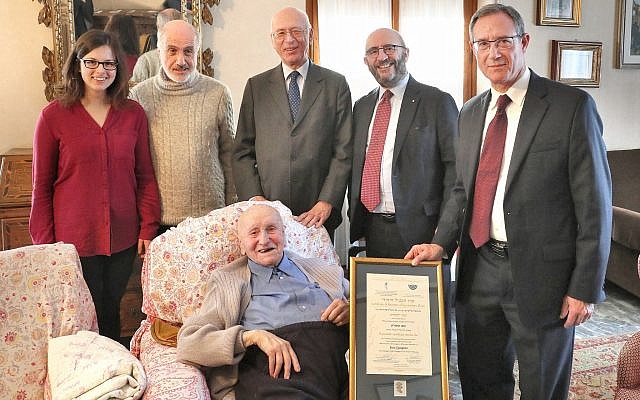 Seventy-five years after he helped a group of over 1,000 Jews fleeing Italian-occupied France, 98-year-old Jewish-Italian Enzo Cavaglion was honored in his hometown of Cuneo on Sunday.
Cavaglion was presented with the Jewish Rescuers Citation by B'nai Brith World Center-Jerusalem and the Committee to Recognize the Heroism of Jews who Rescued Fellow Jews During the Holocaust at his residence, surrounded by family and friends.
He still lives in the same village from which he helped organize the 1943 rescue effort.
"Enzo was really moved by the award," said Alan Schneider, director of B'nai Brith World Center-Jerusalem, who attended the presentation.
"He's 98 years old — frail in body, but his mind is sharp, and it was an opportunity for him to remember those awful days when he assisted these 1,000 Jews who escaped over the Maritime Alps from France into Italy," Schneider said.
The Jewish Rescuers Citation was established in 2011 to help correct the common misconception that Jews didn't significantly help rescue other Jews during the Holocaust.
To date, nearly 200 heroes who operated in Germany, France, Hungary, Greece, Slovakia, Yugoslavia, Russia, Lithuania, Poland, Holland, Italy, Ukraine, Latvia and Austria have been awarded the citation.
"For decades there's been a focus on non-Jewish rescuers, such as the recognition as Righteous Among the Nations — an outstanding program spearheaded by Yad Vashem," said Schneider.
Read More: Times Of Israel