Hezbollah
Hezbollah tunnel construction began before 2006 Second Lebanon War — report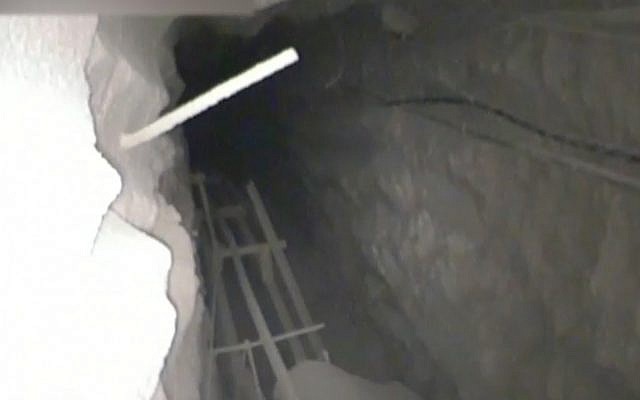 The construction of Hezbollah cross-border attack tunnels began before the start of the 2006 Second Lebanon War and not three or four years ago as the army has claimed, Channel 13 news reported on Wednesday.
The Israel Defense Forces declined to comment on the report.
According to the television report, the then-head of the army's Northern Command, Benny Gantz, was warned in 2005 that Hezbollah tunnels were being dug into Israel.
The warning came from the adviser to the IDF chief of staff on the tunnel threat, Col. Yossi Langotsky.
The IDF apparently ignored the information.
The military on Sunday declared that its effort to find and destroy Hezbollah cross-border attack tunnels was ending, following the discovery of another such underground passage over the weekend.
"With the discovery of this terror tunnel, the effort to locate the passages dug by Hezbollah that crossed the border into Israeli territory has been completed. The neutralization of this passage will be completed in the coming days," the army said in a statement.
IDF Chief of Staff Benny Gantz speaks at a ceremony in memory of the Israeli soldiers who were killed in the First Lebanon War (Operation Peace for Galilee) at the Mount Herzl military cemetery in Jerusalem on June 5, 2012. (photo credit: Uri Lenz/Flash90)
"According to our intelligence and our assessment of the situation there are no longer any cross-border attack tunnels from Lebanon into Israel," army spokesperson Lt. Col. Jonathan Conricus told reporters.
According to Channel 13, although all of the underground passages running from Lebanon to Israel have now been discovered, there still remain a number of tunnels which do not cross the border and which the IDF has asked the Lebanese government and army to destroy.
On December 4, the IDF launched Operation Northern Shield to find tunnels that it says the Iran-backed Hezbollah terrorist group had dug into northern Israel from towns in southern Lebanon.
The military confirmed discovering at least six tunnels during the month-long operation.
"In addition, the IDF is monitoring and is in possession of a number of sites where Hezbollah is digging underground infrastructure that has yet to cross into Israeli territory," the army said.
Read More: Times of Israel