Hezbollah
Hezbollah 'threatens Lebanon, region, and must withdraw from Syria' — Tillerson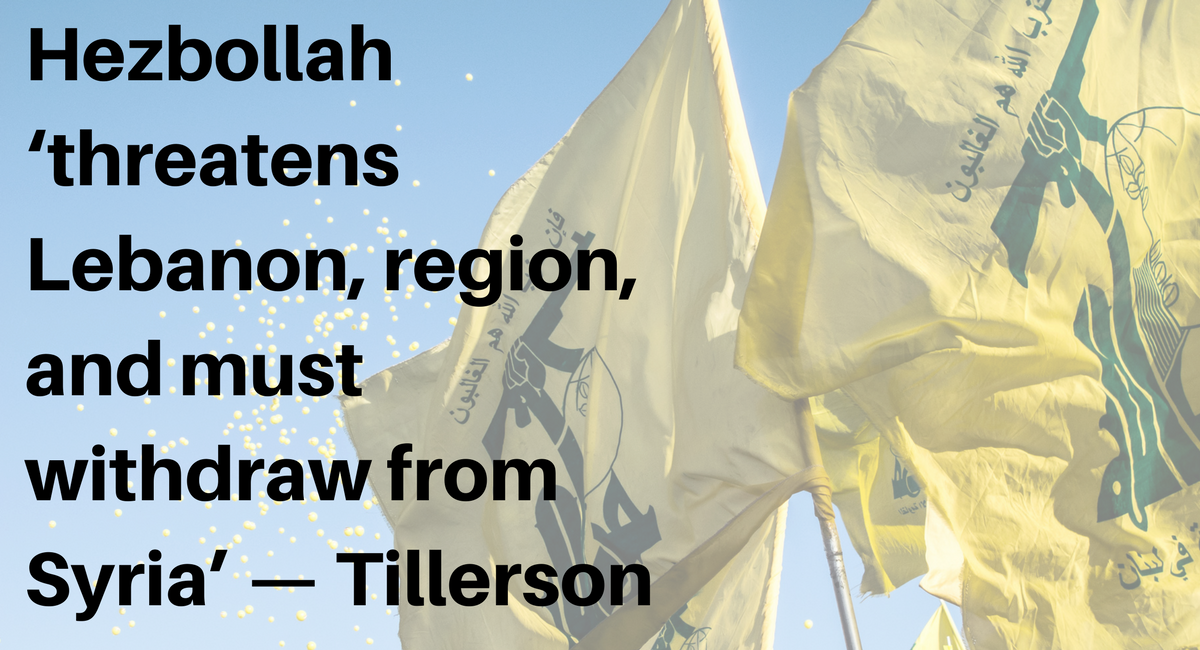 BEIRUT — US Secretary of State Rex Tillerson on Thursday accused the Lebanon-based terror organization, Hezbollah, of threatening Lebanon and the region, and called for it to end its activities in Syria, to lower tensions there.
On the same day, Sheikh Nabil Kaouk, a former deputy head of Hezbollah's executive council, who led the group's forces in southern Lebanon during Israel's 18-years of occupation, said in Tehran that "the Israeli enemy is living under the nightmare of a Hezbollah incursion into the Galilee."
Speaking at a ceremony to commemorate the tenth anniversary of the assassination by a car bomb in Damascus of Hezbollah chief Imad Mughniyeh, Kaouk went on that the next war would be "Israel's greatest disaster since [Israel's independence] in 1948."
The downing of an Israeli F-16 fighter plane during strikes against targets in Syria on Saturday had "harmed Israel's superiority and created a new equation in the region," he claimed.
On Saturday morning, an Iranian drone was flown into Israeli territory, near the Jordanian border, where it was shot down by an IAF Apache attack helicopter. In response to the drone incursion, Israeli jets attacked the mobile command center from which it was operated, the army said.
During the reprisal raid, one of the eight Israeli F-16 fighter jets that took part in the operation was apparently hit by a Syrian anti-aircraft missile and crashed, injuring two pilots. The Israeli Air Force then conducted a second round of airstrikes, destroying between a third and half of Syria's air defenses, according to IDF spokesperson Lt. Col. Jonathan Conricus.
On Wednesday, while still on the Jordanian leg of his Middle East tour, Tillerson had struck a softer tone towards the organization, conceding that Hezbollah was part of the "political process" in Lebanon.
In Thursday's talks with Lebanese Prime Minister Saad Hariri in Beirut, the secretary of state offered Washington's support for a "free and democratic" Lebanon.
But at at time of tension between Lebanon and Israel, notably over the role of the Shiite Hezbollah — which controls a militia of tens of thousands of men and has already fought one war with Israel in 2006 and threatens to wage another — that dominated much of the conversation.
Read More: Times of Israel