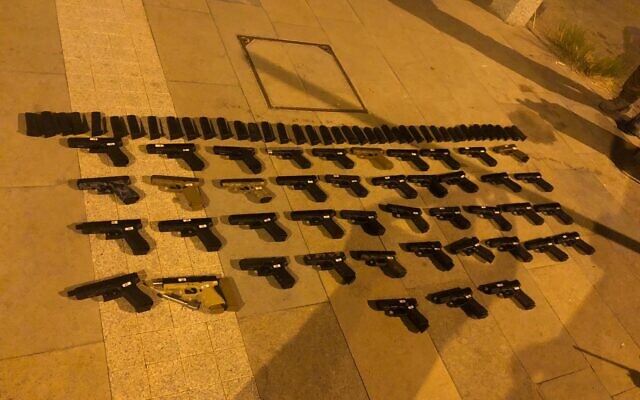 In The News
Hezbollah smuggling weapons to Arab Israelis to sow civil strife – police
The Lebanon-based Hezbollah terror group is trying to smuggle weapons into Israel for use by the Arab Israeli community in future clashes, a police official has said.
The Israel Police have noticed a significant increase in efforts to smuggle weapons into the country via the Lebanese and Jordanian borders in the months since a May conflict with the Gaza Strip that was accompanied by some of the most severe rioting in decades between the Jewish and Arab communities in Israel, Channel 12 reported Monday.
There has been a several-fold jump in smuggling and a marked improvement in the quality of the weapons being sent, in what police described as a "strategic threat" to the country, according to the report.
Police say the weapons' intended destination is crime organizations in the Arab community, where they would also be available for terror attacks in the event of another surge in violence between Jews and Arabs.
The head of the northern district police intelligence department, Chief Superintendent Yaron Ben-Yishi, told the network that 95 percent of the smuggling from Lebanon is directed by the Iran-backed Hezbollah.
Ben-Yishi said that whereas in the past Hezbollah tried to push drugs into Israel to "poison our young people," the terror group has now switched tactics to focus on weapons smuggling instead in preparation for an expected "doomsday."
During May's clashes "they saw the sensitivity surrounding the Temple Mount [in Jerusalem] and they know that on the day that things explode, Arab Israelis will have enough weapons to use them for their [Hezbollah's] hostile terror activities," he said.
Read More: Times of Israel