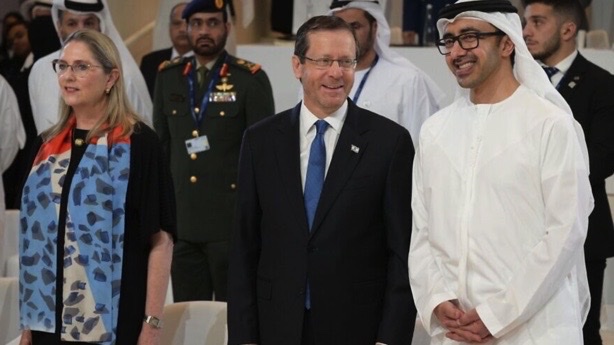 In The News
Herzog visits the UAE after historic trip to Bahrain
Israeli President Isaac Herzog on Monday touched down in the United Arab Emirates, kicking off the second day of his state visit to the Gulf.
Herzog was greeted at the airport by Emirati Foreign Minister Sheikh Abdullah bin Zayed Al Nahyan.
The Israeli leader then addressed the Abu Dhabi Space Debate, a forum on space exploration that included Indian Prime Minister Narendra Modi.
"As humanity gazes up at the stars, I wish to bring this discussion back to earth because I believe that the greatest promise of space exploration lies not only in discoveries on distant planets but also in rediscovering our potential for collaboration here on the blue planet we call home," said Herzog.
Read More: JNS