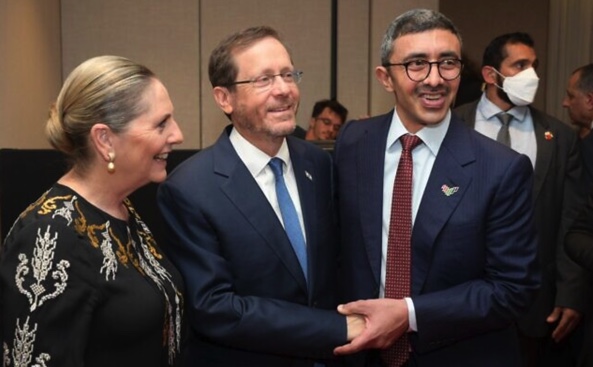 In The News
Herzog says planning to soon visit Bahrain, hopes normalization with Sudan advances
President Isaac Herzog said on Thursday that he soon plans to visit Bahrain, while speaking at a reception hosted by the United Arab Emirates to celebrate two years since Jerusalem established diplomatic ties with Manama and Abu Dhabi.
"I intend to visit Bahrain in the coming months as the guest of His Majesty King Hamad bin Isa Al Khalifa in order to continue exploring together new ways to enhance our nations' cooperation, for the sake of the peace, prosperity, and success of our entire region," Herzog announced.
The event was hosted by UAE Ambassador to Israel, Mohammed Al Khaja, and attended by Foreign Minister Sheikh Abdullah bin Zayed Al Nahyan, who was visiting Israelis as the countries celebrated the second anniversary of the US-brokered Abraham Accords.
Read More: Times of Israel