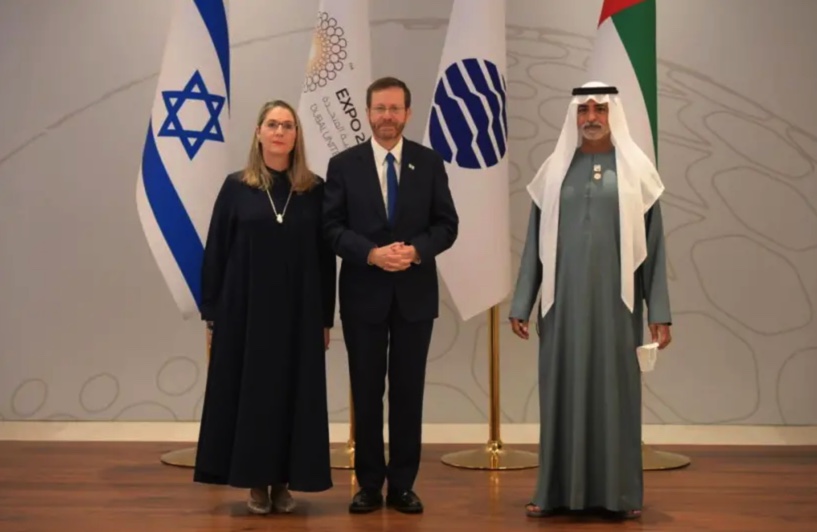 In The News
Herzog opens Israel's national day at Dubai Expo, celebrates Israel-UAE ties
"Expo 2020 Dubai is a reminder of what can be accomplished when we work together to break down borders by connecting minds and imagining a different future," President Isaac Herzog said on Monday as he launched Israel's national day at Expo 20 in Dubai, following a ceremonial welcome in the central plaza where Hatikva, Israel's national anthem was played.
Herzog reiterated the hope and belief he had expressed on Sunday in Abu Dhabi that other Arab states in the region will follow the UAE's lead and join the Abraham Accords.
Expo 2020 Dubai is a huge achievement for all the participating nations, and also a huge achievement for Dubai itself and its brave leaders, he said. "It is a remarkable celebration of each nation's unique identity."
As the President of the State of Israel, Herzog said that he was proud of Israel's contribution to the vision of a common future, as has been seen on display over the past several months both in theUAE and in Israel, where he recalled, he had the honour to inaugurate the UAE embassy in Tel Aviv.
"Israel is a country in which obstacles become opportunities, and where the impossible is a tantalising challenge," Herzog declared. "This pavilion has provided a phenomenal taste of what we have to offer—from water tech and sustainable agriculture, to public health, to smart cities and ground-breaking solutions for a circular economy. It has also been a stage for the beautiful mosaic of cultures, faiths, music and arts, that make up Israel's vibrant society, and it has been a practical display of cooperation between nations, of the future we can all imagine. This imagination turned into reality right here, when the UAE and its leaders daringly signed the historic Abraham Accords."
Read More: The Jerusalem Post