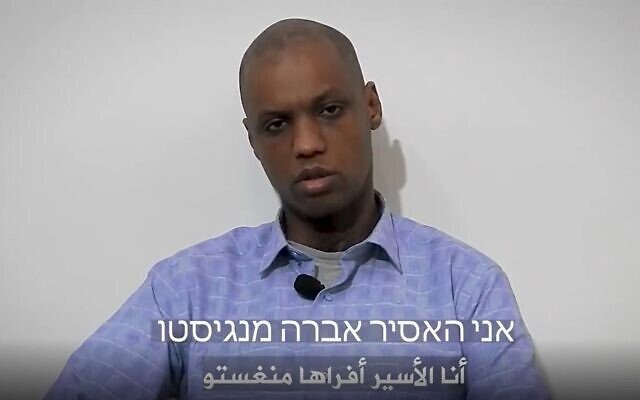 Issues
Hamas says clip of Israeli captive Mengistu is recent; Israel still unsure it's real
Terror group says prisoners will only be released if Israel pays 'decent price;' IDF spokesperson pans 'unethical' behavior in publishing video, declines to authenticate it
The Hamas terror group said Tuesday that a video it released the day before, purportedly of captive Israeli civilian Avera Mengistu, was filmed recently, while Israel publicly maintained its position that it cannot verify if the person in the clip really is the hostage held in the Gaza Strip.
Mengistu is one of two Israeli men being held by the terror group, alongside the remains of two soldiers killed during Israel's war with Hamas in the summer of 2014. Israeli authorities have been quietly engaged in fruitless negotiations for their release for years.
Hamas spokesperson Hazem Qassem said the video was made in "recent weeks" and that Israel "will not see its captured soldiers until there is a decent exchange" for Palestinian prisoners held in Israel.
Read more: The Times of Israel