Hamas
Hamas official threatens border raid if Israel doesn't keep to ceasefire deal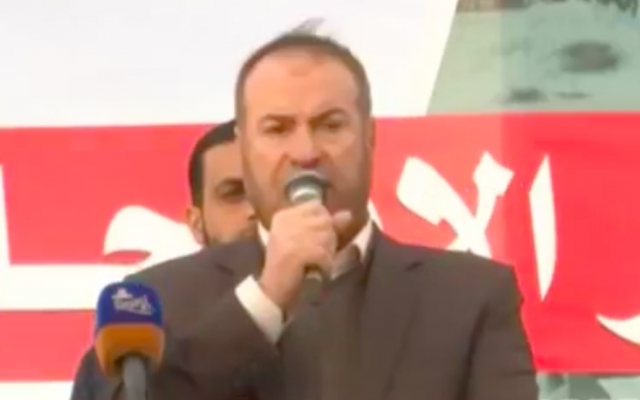 A senior Hamas official said on Tuesday that if Israel does not keep to the terms of a de facto ceasefire agreement it reached with the terror group, Palestinians will rush the Gaza Strip's border with the Jewish state.
Fathi Hamad, a member of Hamas's politburo who is known for his heated rhetoric, made the statement at a protest in the northern border region between Israel and Gaza.
"If the enemy does not return to its senses and does not implement the understandings, we will storm the border," he said in a short speech, without elaborating on what he specifically wanted Israel to do. "Our patience has run out. Our patience has run out."
Since late March 2018, the Hamas terror group, Palestinian political parties, civil society groups and others have orchestrated weekly protests in the Gaza border region, which, they say, aim to force the Jewish state to lift its restrictions on the movement of people and goods into and out of the coastal enclave. Israel says it maintains the blockade to prevent Hamas, which is sworn to destroy the Jewish state, from importing weaponry.
The protests have seen many violent acts, including the lobbing of firebombs, rocks and other objects at IDF soldiers and the sabotaging of the border fence.
Israel and Hamas, however, reached a series of understandings last summer through intermediaries to provide Gaza with economic incentives in exchange for relative calm along the border. Egypt, United Nations special coordinator to the Middle East peace process Nickolay Mladenov and Qatar have been identified as the primary arbiters of this de facto ceasefire agreement.
Read More: Times of Israel