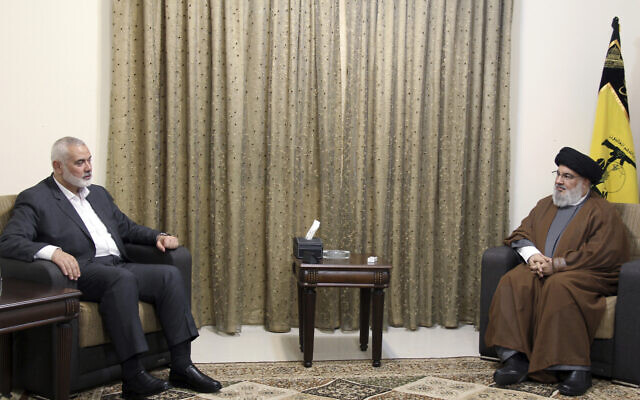 Hamas leader Haniyeh meets Hezbollah chief Nasrallah in Beirut
Hamas political bureau chief Ismail Haniyeh and Hezbollah leader Hassan Nasrallah met in Beirut on Tuesday, as the Gaza-based terror chief held a series of high-level meetings around the Arab world.
The two were said to discuss the recent 11-day bout of fighting between Israel and Gaza-based terror groups led by Hamas, and how they could build on the experience of the latest round of violence.
"Nasrallah and Haniyeh affirmed the depth of the relationship between Hezbollah and Hamas, and its primary position in the axis of resistance," according to the pro-Hezbollah Lebanese TV station al-Mayadeen.
There were no public statements by the two after the meeting.
The political head of the Gaza terror group visited Morocco and Mauritania before heading to Lebanon. Haniyeh last met with Nasrallah during his previous visit to Lebanon last September.
Read More: Times of Israel