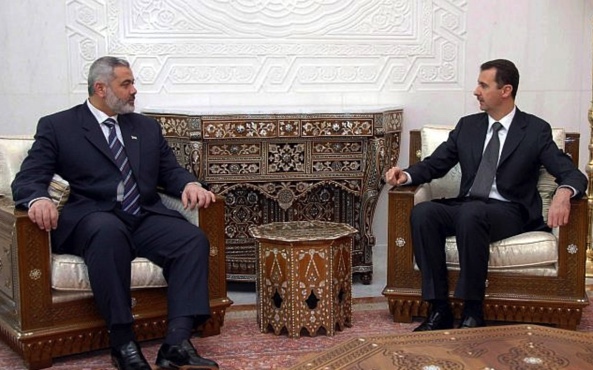 In The News
Hamas delegation visits Syria for first time in a decade, will meet Assad
A Hamas delegation arrived in Damascus Wednesday for talks with Syrian President Bashar Assad in the first such visit since the Palestinian terror organization severed ties with Syria a decade ago.
Hamas, the terror group that controls the Gaza Strip, was one of Assad's closest allies but left Syria in 2012 after condemning his brutal suppression of peaceful protests in March 2011, which triggered the country's descent into civil war.
"The Hamas delegation arrived in Damascus on a two-day visit," during which Palestinian factions will meet Assad, said Palestinian Popular Struggle Front leader Khaled Abdel Majid.
The meeting will be followed by a news conference at 1:30 p.m. local time.
The visit by the Hamas delegation, headed by Arab relations chief Khalil al-Hayya, comes after the Islamist group signed a reconciliation deal with its Palestinian rival Fatah in Algiers last week, vowing to hold elections by next October in a bid to settle a 15-year rift.
Read More: Times of Israel