Hamas
Hamas' cat and mouse game over terrorist funding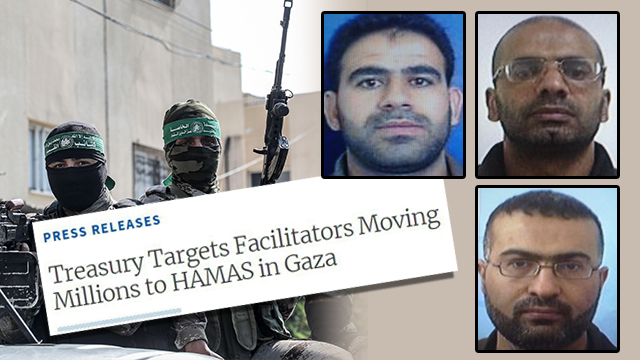 Hamas is trying to thwart efforts to crack down on the funding it receives to sponsor terrorist activity by spreading the money around and using regular bank transactions to hide in plain sight, says an IDF intelligence officer who monitors terrorist funding in the West Bank.
"Most of the money transfers to Hamas are done physically through a human facilitator, most of them are normal bank transactions", says Lt. Col. A., a senior intelligence officer in the IDF Central Command.
The IDF intelligence branch has intensified its surveillance of terrorist funding routes, most of them coming from Iran, through Lebanon and Hezbollah and from there ending up in Gaza.
"We have increased our research capabilities to track these routes (and) these actions unequivocally hurt the military wing of Hamas," he says.
"The organization tries to smuggle terrorist funding through covert ways that are hard to discover from an intelligence standpoint. Hamas decentralizes its cash flow as much as possible, not operating through a coherent 'ministry of finance'."
Money launderers have been one of the main targets of operations by the IDF intelligence division for a while. These money launderers facilitate cash flow intended for sponsoring terrorist and civilian initiatives by Hamas and the Islamic Jihad in Gaza
At times, these counterterrorist measures are assisted by the U.S., such as in August, when the U.S. Treasury announced that it has blacklisted three Palestinian businessmen who were used as money facilitators for terrorist organizations in Gaza.
Little was widely known about these facilitators until six months ago, when one of the main Hamas money launderers, Hamad Hadri, became the first target eliminated by the IDF since Operation Protective Edge in 2014.
According to the IDF, Hadri oversaw delivering enormous quantities of cash from Iran to terrorist groups in Gaza.
The money collected by these launderers is transferred to the military wings of various terrorist organizations.
Most of that money is then smuggled into the West Bank, if not caught by Israel, or transmitted through anonymous bank transactions.
These terrorist organizations try to fund civilian initiatives in Gaza, such as charity and schools, on behalf of their branches in the West Bank, but also fund organized terrorist cells trying to spark disorder in the West Bank.
The three individuals, Kamal Awad, Fawaz Nasser and Muhammad Al-Ayy, were reported to the U.S. Treasury's Office of Foreign Assets Control (OFAC) and as a result, had all their properties and interests in the United States blocked.
In addition, persons that engage in certain transactions with the individuals may themselves be exposed to sanctions or enforcement actions, the Treasury says.
These businessmen were central facilitators for money transitions to terrorist organizations in Gaza, transferring millions of dollars over the last few years.
The three reside in Gaza, but their businesses and money were being transferred through the U.S.
As part of their legitimate business actions, they occasionally went abroad leaving Gaza via Cairo.
During their travels, they laundered millions for Hamas and Islamic Jihad.
"This administration will not falter to hold Hamas and its Iranian leaders accountable for their violence. The treasury will continue to disrupt terrorist networks by targeting those who generate funds to carry out the Iranian regime's violent agenda," said Sigal Mandelker, the Treasury's Israeli-born Under Secretary for Terrorism and Financial Intelligence.
The IDF says that the individual most hurt by these sanctions is Muhammad Al-Ayy, the main facilitator among the group.
"His financial damage is approximated at around $10 million dollars," says the IDF, adding that it is "not familiar with any holdings in the U.S., but all of the bank transactions attributed to him were made through a New York bank. This is the main reason for targeting his assets and properties."
According to Lt.-Col. A.,"Al-Ayy is even senior to Hadri (the Hamas money launderer killed by the IDF in May).
"The executive decree freezing their assets in the U.S. is a warning to all those who intended to do business with them," says Lt.-Col A.
He warns that the three are just the tip of the iceberg when it comes to terror financing. "There are dozens of facilitators working through many axes," he says.
Read more: Ynet News