US-Israel Relationship
Haley calls UNESCO Hebron motion 'an affront to history,' says US to review ties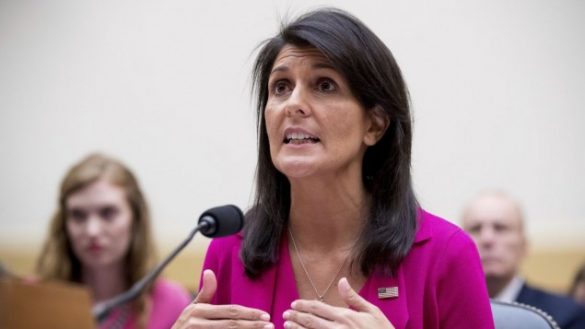 WASHINGTON — Hours after UNESCO declared the Tomb of the Patriarchs, in the Old City of Hebron in the West Bank, an endangered Palestinian world heritage site, US Ambassador to the United Nations Nikki Haley said the move was both "tragic" and an "affront to history," and that the US would review its ties with the world body as a result of the decision.
On Friday, the United Nations Educational, Scientific, Cultural Organization (UNESCO) passed its second anti-Israel resolution in less than a week.
During the World Heritage Committee's 41st annual summit, currently taking place in Krakow, Poland, twelve countries voted in favor of the Hebron decision while three opposed it and six countries abstained. Both the US and Israel protested vigorously against the motion.
The voting took place in secret, whereas in the past, votes to inscribe sites onto UNESCO's World Heritage List are done by a show of hands among all the member states. But three countries — Poland, Croatia and Jamaica — requested a secret ballot, much to the objection of other countries.
"The UNESCO vote on Hebron is tragic on several levels. It represents an affront to history," Haley said in a statement.
The resolution, she said, would stultify ongoing attempts by the Trump administration to renew Israeli-Palestinian peace talks, a major foreign policy priority for Washington.
"It undermines the trust that is needed for the Israeli-Palestinian peace process to be successful," she said. "And it further discredits an already highly questionable UN agency. Today's vote does no one any good and causes much harm."
"The United States is currently evaluating the appropriate level of its continued engagement at UNESCO," she warned.
Israeli Prime Minister Benjamin Netanyahu responded to the motion earlier Friday by calling the measure "another delusional UNESCO decision" and ordered that another $1 million be pulled from Israel's UN funding to establish a museum showcasing Jewish heritage in Hebron.
Earlier this week, the World Heritage Committee passed a resolution denying Israeli claims to the Old City of Jerusalem. Although the text was much softer than similar resolutions passed in previous years, Israel condemned it strongly.
Read More: Times of Israel