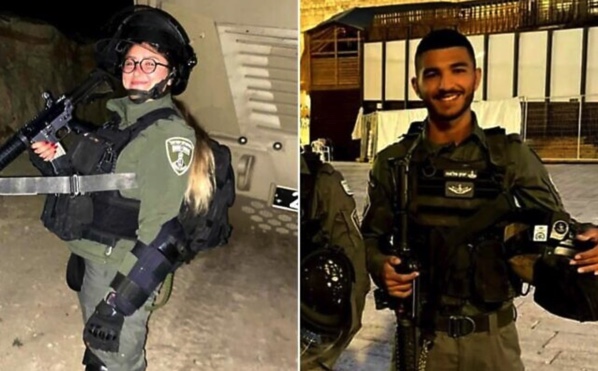 In The News
Hadera victims named as Border Police officers Yezen Falah and Shirel Abukarat
Police identified the two people killed in the Hadera terror attack as Border Police officers Yezen Falah and Shirel Abukarat, both 19, saying that the two officers saved many lives in the attack.
"The two officers died in battle this evening with armed terrorists," the Border Police said in a statement after midnight Sunday, adding that three other officers were injured.
Falah, a resident of the Druze village of Kisra-Sumei in the Galilee, joined the Border Police a year ago and is survived by his parents and a brother and sister, police said.
Abukarat, a resident of Netanya whose family immigrated from France, joined the force six months ago and is survived by her parents and a brother. According to the Ynet news site, Abukarat's mother told friends that she had moved the family from France because she wanted them to live in safety. "We fled France to have security and here she died, in our country. It does not make sense. I wanted to give them a good life and security," she reportedly told friends.
Falah was to be buried in his hometown at 4 p.m. Monday, while Abukarat's funeral was set for 5:30 p.m. in Netanya.
"The soldiers fought with bravery, we share the sorrow and hug the families of the heroes Yezen and Shirel of blessed memory who defended the citizens with their bodies and saved many lives," the statement said, calling them "highly motivated young fighters who gave up their lives for the security of the people of Israel."
Read More: Times of Israel