US-Israel Relationship
Graham to push for US to recognize Golan Heights as part of Israel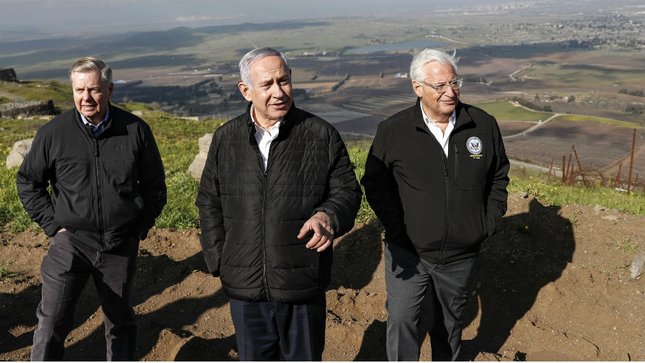 Sen. Lindsey Graham (R-S.C.) on Monday told Israeli Prime Minister Benjamin Netanyahu he will push for the United States to formally recognize the Golan Heights as part of Israel.
Graham, Netanyahu and U.S. Ambassador to Israel David Friedman together toured the Golan Heights, a slice of territory taken by Israel from Syria in the 1967 Six-Day War.
Israel passed a law annexing the area in 1981, but that annexation failed to get international recognition and was shot down by the United Nations General Assembly.
The United States has not formally recognized Israel's annexation, but has maintained since 1975 a policy of only supporting regional peace agreements that protect Israel from attacks emanating from Golan Heights.
Last month, Republican Sens. Ted Cruz (Texas) and Tom Cotton (Ark.), along with Rep. Mike Gallagher(R-Wis.), introduced a resolution "to ensure that Israel retains control of the Golan Heights."
The Golan Heights is a key strategic position in northern Israel, bordering Syria and Lebanon, that Israel sees as crucial to any defense efforts against potential incursions from its neighbors.
Israel has kept control of the territory since 1967, but its leaders have at times floated the possibility of a territorial cession in exchange for Syrian recognition of the country.
Netanyahu, who faces a tough parliamentary election in April, said the Golan Heights "has always been part of Israel."
Read More: The Hill