Israeli Technology
Global cybersecurity experts gather at Israel's Cyber Week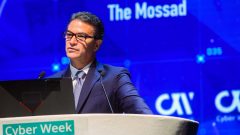 The magnitude of Israel's cybersecurity industry was on full show this week at the 9th Annual Cyber Week Conference at Tel Aviv University, which saw thousands of participants from all over the world gather to catch up on the latest achievements and challenges in this ever-evolving field.
The week-long event, the largest conference on cyber tech outside of the US, took off on Sunday, when the first of 8,000 attendees from 80 different countries began gathering at some of the 50 events taking place at Tel Aviv University.
Hundreds of Israeli companies and startups exhibited at the event, showcasing Israel's leading position worldwide in the sector.
Four hundred speakers were scheduled to speak at the exhibition, among them Prime Minister Benjamin Netanyahu, Mossad chief Yossi Cohen and Israeli cybersecurity hotshots such as Check Point founder and CEO Gil Shwed.
Guest speakers from abroad included former Sen. Joseph Lieberman, Washington D.C. Mayor Muriel E. Bowser, former director of the NSA and former head of the U.S. Cyber Command Mike Rogers and Director of the Cybersecurity and Infrastructure Security Agency Christopher C. Krebs.
Panels at the conference discussed topics such as cyberattacks against nations, cybersecurity for aviation, women in cybersecurity and academic perspectives on cybersecurity challenges.
Read More: Israel21c