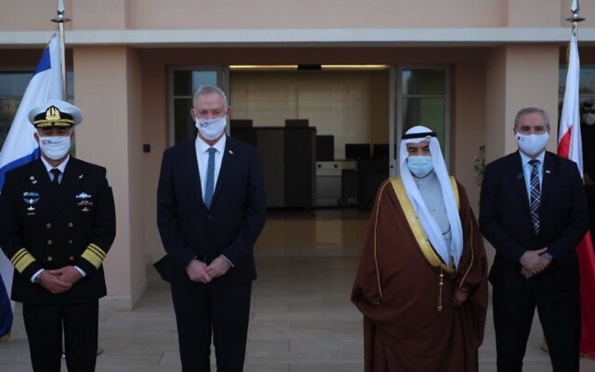 In The News
Gantz lands in Bahrain to sign security agreements, in first official visit
Defense Minister Benny Gantz landed in the Bahraini capital on Wednesday afternoon in his first official visit to the island kingdom. He is set to sign security agreements with his Bahrainai counterpart as the two nations look to further solidify their ties.
For security reasons, Gantz's landmark trip was kept secret until he landed in Manama, and details of his schedule in the island kingdom were similarly not immediately permitted for publication.
Gantz was scheduled to spend just over 24 hours in the Persian Gulf country, meeting with top Bahraini officials, including King Hamad bin Isa Al Khalifa, Crown Prince and Prime Minister Salman bin Hamad Al Khalifa, and Minister of Defense Affairs Abdullah Bin Hassan Al Noaimi, before returning to Israel late Thursday night.
During the visit, Gantz will sign security agreements with Al Noaimi, the details of which were still being discussed ahead of the trip.
In addition, the defense minister was scheduled to visit the United States Navy's 5th Fleet, which is based in the Persian Gulf island nation, as well to meet with its commander Brad Cooper.
Read More: Times of Israel