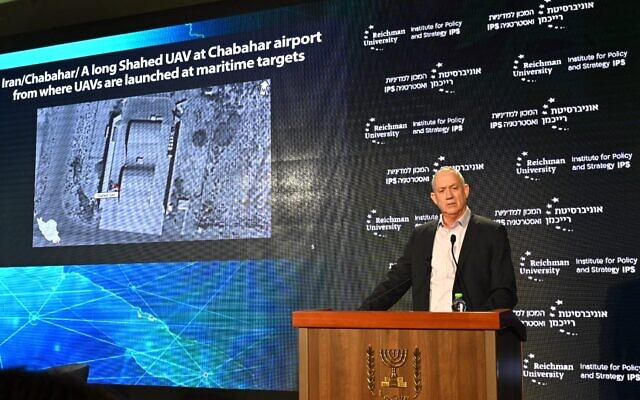 In The News
Gantz exposes Iran drone bases, says Tehran tried to fly TNT via UAV into West Bank
Defense Minister Benny Gantz revealed the locations of two Iranian drone bases that he said were used to conduct attacks against targets at sea in recent months.
According to Gantz, one of the sites is located in the area of Chabahar and the other is situated on Qeshm Island, just off the coast of the Iranian mainland.
"I want to stress to you that unmanned aerial vehicles are a precision weapon, which can reach strategic targets throughout the world. Most of the drone attacks that we've seen so far have been from southern and southeastern Iran against targets at sea," Gantz said.
Over the past year, Israel and Iran have been engaged in something of a shadow war at sea, with Tehran allegedly conducting a number of attacks on Israeli-owned or Israeli-linked vessels sailing through the Persian Gulf and the Gulf of Oman, including one such strike in July on the Mercer Street, an oil tanker that was owned by an Israeli businessman, in which a British and a Romanian crew member were killed.
Gantz warned that Iran's drone program was a threat not only to Israel, but to the entire region.
"We have seen the attack on Aramco, the launching of drones from Syria, the attempts by Iran to build capabilities for Hezbollah to precisely launch explosive drones at Israel," he said, referring to a massive attack on the Saudi petroleum company Aramco in 2019 with drones and cruise missiles.
Read More: Times of Israel