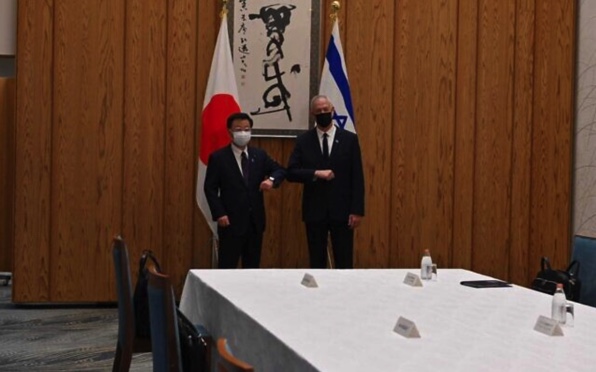 In The News
Gantz arrives in Tokyo for visit marking 70 years of diplomatic relations
Defense Minister Benny Gantz landed in Tokyo on Monday for an official visit celebrating 70 years of diplomatic relations between Israel and Japan, the first time in a decade an Israeli defense minister is visiting the East Asian nation.
Accompanied by Israeli ambassador to Japan Gilad Cohen, Gantz will conduct meetings with Japanese government and security officials during his visit, including with Cabinet Secretary Matsuno Hirokazu, the second most senior policymaker in Japan behind the prime minister.
According to a Defense Ministry statement, Gantz is also scheduled to meet with US Ambassador to Japan Rahm Emanuel, the Jewish ex-mayor of Chicago and White House chief of staff under former president Barak Obama.
On Monday Gantz will attend a ceremony to honor former Japanese defense minister Nakayama Yasuhide, presenting him with a certificate of appreciation on behalf of the Israeli government for the "great support he showed the State of Israel," the statement said.
Read More: Times of Israel