US-Israel Relationship
Full Transcript Of Pence's Knesset Speech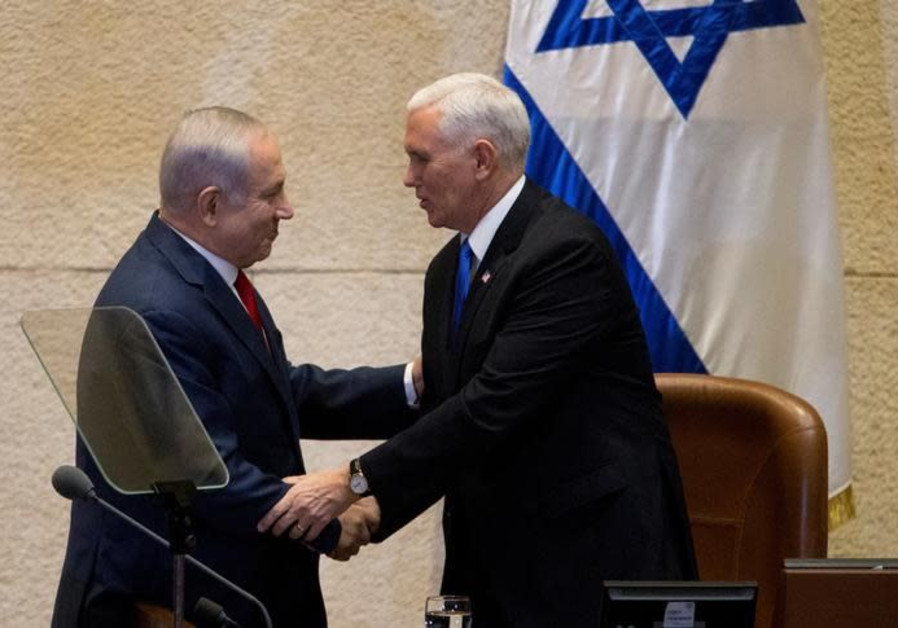 US President Vice President Mike Pence speaking at the Knesset on January 22, 2018
President Rivlin, Prime Minister Netanyahu, Speaker Edelstein, Leader Herzog, members of the Knesset, justices of the Supreme Court, citizens of Israel it is deeply humbling for me to stand before this vibrant democracy to have the great honor to address this Knesset, the first Vice President of the United States to be afforded that privilege here in Jerusalem, the capital of the State of Israel.
And I bring greetings from a leader who has done more to bring our two great countries closer together than any President in the past 70 years — the 45th President of the United States of America, President Donald Trump.
Thanks to the President's leadership, the alliance between our two countries has never been stronger, and the friendship between our peoples has never been deeper.  And I am here to convey a simple message from the heart of the American people:  America stands with Israel.
We stand with Israel because your cause is our cause, your values are our values, and your fight is our fight.
We stand with Israel because we believe in right over wrong, in good over evil, and in liberty over tyranny.
We stand with Israel because that's what Americans have always done, and so has it been since my country's earliest days.
During his historic visit to Jerusalem, President Trump declared that the bond between us, in his words, is "woven together in the hearts of our people," and the people of the United States have always held a special affection and admiration for the people of the Book.
In the story of the Jews, we've always seen the story of America.  It is the story of an exodus, a journey from persecution to freedom, a story that shows the power of faith and the promise of hope.
My country's very first settlers also saw themselves as pilgrims, sent by Providence, to build a new Promised Land.  The songs and stories of the people of Israel were their anthems, and they faithfully taught them to their children, and do to this day.  And our founders, as others have said, turned to the wisdom of the Hebrew Bible for direction, guidance, and inspiration.
America's first President, George Washington, wrote with favor to "the children of the stock of Abraham."  Our second President, John Adams, declared that the Jews, in his words, "have done more to civilize man than any other nation."
And your story inspired my forebears to create what our 16th President called a "new birth of freedom."  And down through the generations, the American people became fierce advocates of the Jewish people's aspiration to return to the land of your forefathers to claim your own new birth of freedom in your beloved homeland.
Read More: J Post