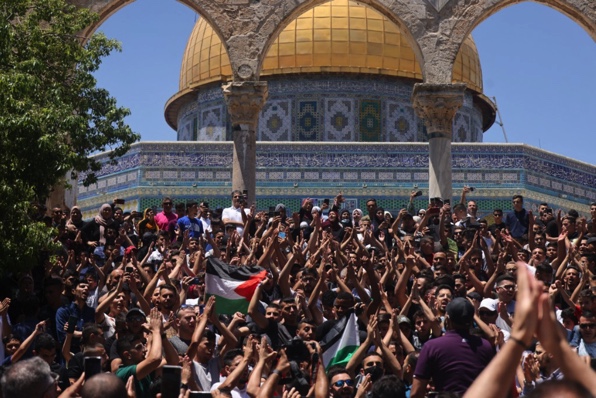 Issues
Friday prayers on Jerusalem's Temple Mount pass without clashes as Ramadan begins
Friday's Muslim prayers on Jerusalem's Temple Mount, the first of the holy month of Ramadan, passed without special incident as of late afternoon.
Israeli forces had been on the highest alert ahead of the prayers at the flashpoint site following a wave of terror attacks.
Police brought in hundreds of reinforcements to the city and set up a special joint command, while the Israel Defense Forces deployed an extra 12 battalions in the West Bank, where a series of large protests are planned.
On Friday morning, Defense Minister Benny Gantz ordered the voluntary call-up of Border Police reservists to bolster officers. Three companies — in total 300 officers — of reservists from the paramilitary police unit are to be brought in.
Hundreds of IDF soldiers were also sent to help police patrol central locations in major cities, including Tel Aviv and Jerusalem.
The precautions come after 11 Israelis were killed in three terror attacks over the last 10 days, the deadliest period since the Second Intifada.
Last May, tensions around Ramadan and Jerusalem escalated into an 11-day war with the Gaza Strip's Hamas rulers and the worst internecine clashes in decades between Jewish and Arab Israelis.
Ramadan begins Saturday in Israel.
Read More: Times of Israel