Hamas
French pilot who stayed with hijacked Israelis, Jews at Entebbe dies aged 95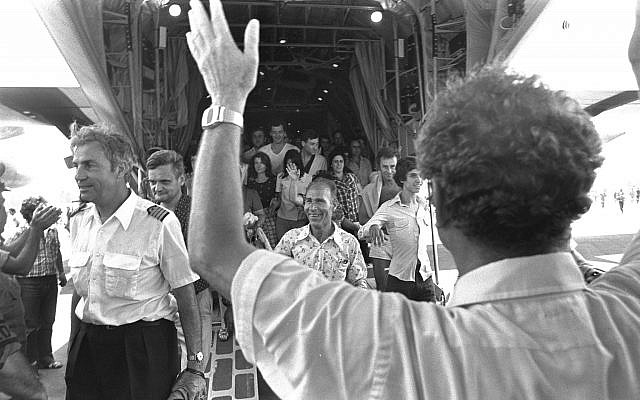 Israeli and French officials Wednesday mourned the death of Michel Bacos, the Air France pilot who along with his crew insisted on remaining with Israeli and Jewish hostages after pro-Palestinian terrorists hijacked his flight and diverted the plane to Entebbe Airport in 1976. He died in Nice on Tuesday at the age of 95.
On June 27, 1976, Palestinian terrorists hijacked an Air France jet flying from Tel Aviv to Paris. The plane was diverted to Uganda, where the hijackers were welcomed by dictator Idi Amin.
The terrorists freed the non-Jewish passengers immediately upon arrival but the Air France crew members, with the captain at their head, refused the captors' offer of release and instead chose to remain as hostages with the plane's Jewish passengers.
On July 4, 98 of the hostages were rescued in an operation by elite Israeli commandos. Four hostages lost their lives along with the mission commander Yonatan Netanyahu, elder brother of Prime Minister Benjamin Netanyahu.
Bacos was eulogized by Netanyahu, who called him the "hero captain."
"I bow to his memory and salute Michel's bravery," Netanyahu tweeted.
"He refused to leave his Jewish and Israeli passengers, even though the hijackers offered him the option. He remained with them through all their suffering, until IDF soldiers under the command of my brother Yoni freed them in a daring operation."
Read More: Times of Israel