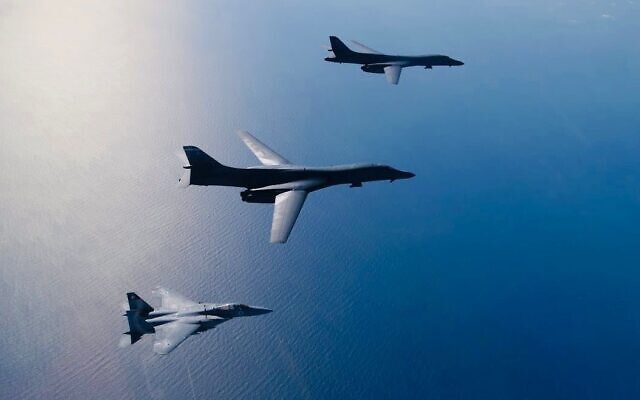 In The News
For 2nd time in a month, IDF fighter jets escort US bombers through region
For the second time in a month, the military said Thursday that Israeli F-15 fighter jets escorted United States B-1 bombers through the region, in a tacit threat to Iran.
According to the Israel Defense Forces, the fighter jets accompanied two B-1B heavy bombers and an American KC-10 refueling jet through Israeli airspace as they headed west from the Persian Gulf.
"The joint flight demonstrates our continued cooperation, which is crucial to the security of Israel and the Middle East," the IDF said in a statement.
The Israeli military shared photographs of the flight, showing the American bombers — capable of carrying heavy bunker-buster bombs that would be needed for a strike on Iran's largely underground nuclear facilities — alongside the Israeli F-15 jets.
Read More: Times of Israel