US-Israel Relationship
Florida governor forges new ties, makes history on Israel visit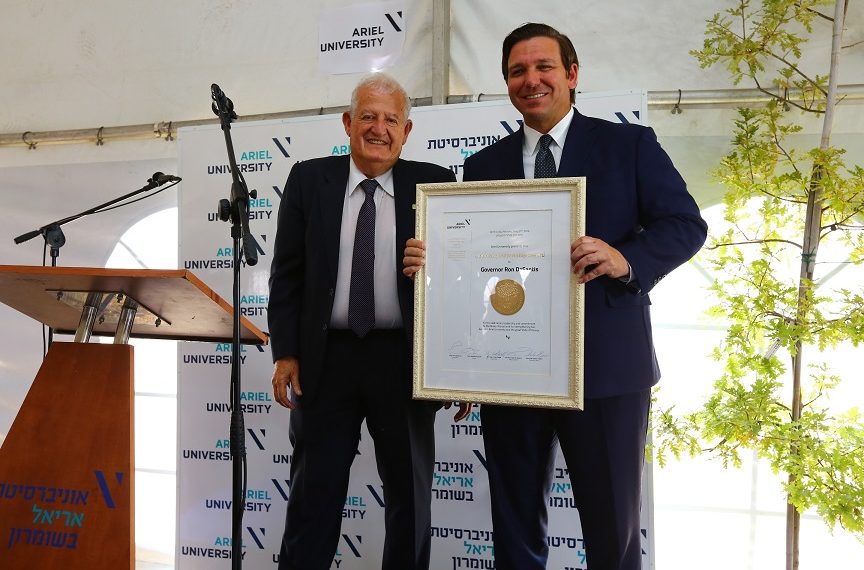 Florida Governor Ron DeSantis signed a historic Memorandum of Understanding between Florida State University and Ariel University on Monday, becoming the first sitting governor to establish a relationship between a U.S. state and an Israeli university in Judea and Samaria.
The majority of the international community considers Israel's presence in Judea and Samaria as illegal, and shuns, or even boycotts, Israeli institutions located there, such as Ariel University.
In appreciation, DeSantis received an Honorary Fellowship Award from the university. At the ceremony were philanthropists Sheldon and Dr. Miriam Adelson, Ariel Mayor Eli Shaviro, and Ariel University President Yehuda Danon.
"I promised to be the most pro-Israel Governor in America and I sincerely thank Ariel University for presenting me the Honorary Fellowship Award," DeSantis said at the event. "This recognition means a lot and I am humbled to be the recipient. Let it be known that Florida will always stand with Israel, our greatest ally in the Middle East."
Dr. Miriam Adelson introduced DeSantis as "a true friend of the State of Israel" who supported the Trump administration's recognition of Israeli sovereignty on the Golan Heights, and "understands that we as Israelis have the right on our holy land."
Read More: Israel Hayom