US-Israel Relationship
Florida cabinet meets in Israel, brushing off threat of legal action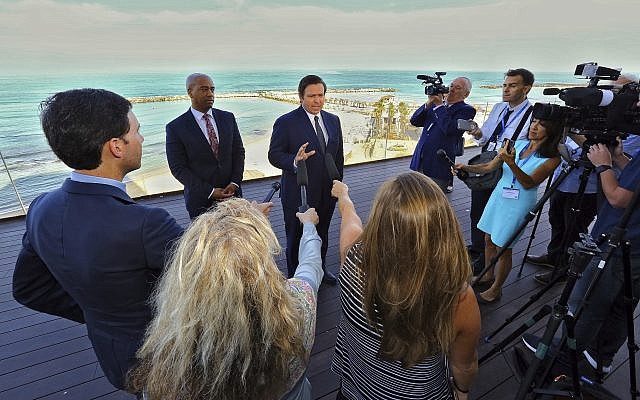 TALLAHASSEE, Florida (AP) — Gov. Ron DeSantis and the Florida cabinet met in Israel on Wednesday, waving away complaints that the setting was illegal. They presented a proclamation of support for Israel and heard from Israelis on several issues important to Florida.
The Republican governor then signed a bill that prohibits anti-Semitism in Florida's public schools and universities. The new law defines anti-Semitism to include "drawing comparisons of contemporary Israeli policy to that of the Nazis," "blaming Israel for all inter-religious or political tensions," or "requiring behavior of Israel that is not expected or demanded of any other democratic nation."
DeSantis called the meeting historic, but the open government watchdog organization First Amendment Foundation and several media outlets sued in an effort to stop it, claiming it violated state law that requires meetings be accessible to the public.
DeSantis did not acknowledge the lawsuit during the meeting, but quipped, "Since we're in Jerusalem, we may actually get some interest in our cabinet meetings for a change, which would be great."
A judge was asked Tuesday to stop the meeting, but the emergency motion was denied because lawyers for DeSantis and the three independently elected cabinet members could not be served with court papers.
Read More: Times of Israel