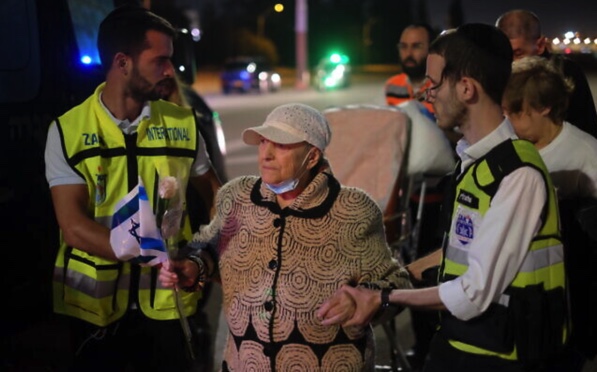 In The News
Fleeing war yet again, 21 Holocaust survivors touch down in Israel on rescue flights
A specially outfitted plane carrying nine Holocaust survivor Ukrainian refugees landed in Israel Wednesday night just as the country was entering its Holocaust Remembrance Day.
"I never thought that this is what would happen again — that at my age I would have to again flee a war and again hear the sounds of bombs going off around me. I already beat Hitler once, I survived the Holocaust. I have a daughter, two grandchildren and three great-grandchildren. And now again I'm a refugee trying to save her life," said Ninel Zhilinska, 88, one of the survivors on the plane, shortly before leaving for Israel.
"I was a refugee in 1941 and now I've become a refugee again," she said.
Twelve other Holocaust survivors arrived earlier in the day on regular flights, according to the International Fellowship of Christians and Jews, which arranged those flights and many of the others transporting refugees to Israel from Ukraine.
"These elderly people generally did not plan on leaving Ukraine, but their homes are in flames and the next place that will be their home is the State of Israel," said Benny Haddad, the head of IFCJ's immigration department.
Read More: Times of Israel