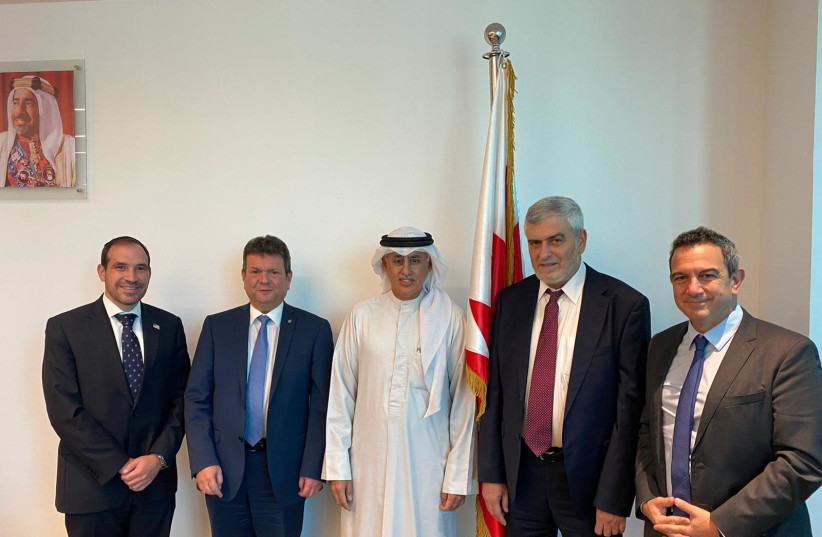 In The News
First Israeli Business Delegation Travels To Bahrain
11/25/2020
Bank Hapoalim CEO Dov Kotler led a business delegation to Bahrain on Tuesday, marking the first Israeli business group to visit the country since peace was announced last month.
The trip was overseen by Aryeh Lightstone, senior adviser to US Ambassador to Israel David Friedman. Other members of the delegation included Harel Insurance CEO Michel Siboni and Israel Manufacturers Association President Ron Tomer. The group met on Wednesday with Bahrain's Minister of Industry, Commerce and Tourism Zayed bin Rashid al-Zayani.
The trip on Wednesday was the first Israeli business group to visit Bahrain. Last week, Bahrain's Foreign Minister Abdullatif bin Rashid al-Zayani visited Jerusalem for talks with Prime Minister Benjamin Netanyahu and US Secretary of State Mike Pompeo.
"Relations with Bahrain are an amazing opportunity for Israeli businesses with an emphasis on fintech," Kotler said. "This is a continuation of Bank Hapoalim's efforts to open new business opportunities for our clients throughout the region."
Adiv Baruch, Chairman of the Israel Export & International Cooperation Institute who was also part of the delegation, said that the Bahraini market created opportunities for Israel throughout the Arab world.
Read More: Jerusalem Post