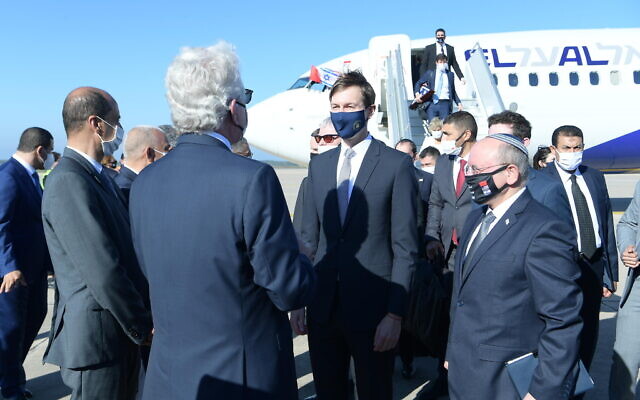 In The News
First Israel-Morocco Flight Arrives In Rabat To Seal Normalization Deal
12/22/2020
The first flight from Israel to Morocco took off on Tuesday morning for a whirlwind trip by a joint Israeli-American delegation that will include the signing of several bilateral and trilateral agreements.
National Security Adviser Meir Ben-Shabbat, who is leading the trip on the Israeli side, said these would include agreements on aviation, tourism, health, water, agriculture and other issues.
Ben-Shabbat, the son of Morocco-born parents, said peace is "breaking out before our eyes." He made his remarks on the tarmac, in front of the plane, which was painted with a hamsa symbol, a hand image popular as a good luck symbol in both countries.
The flight from Tel Aviv to Rabat, which touched down in the Moroccan capital around 3 p.m. local time, is seen as highly symbolic after Morocco announced on December 10 a "resumption of relations" with Israel.
The trip also aims to showcase the achievements of the Trump administration in Middle East diplomacy, weeks before US President Donald Trump is replaced at the White House by President-elect Joe Biden.
Jared Kushner, senior adviser to Trump, said he hoped the renewed ties between Israel and Morocco would create a relationship as warm as the one developing between Jerusalem and Abu Dhabi, following a normalization agreement signed earlier this year.
Since then, tens of thousands of Israelis have visited the United Arab Emirates and multiple cooperation deals have been signed by the two nations.
"My hope is that this flight today to Morocco will produce the same momentum," Kushner said.
Read More: Times of Israel