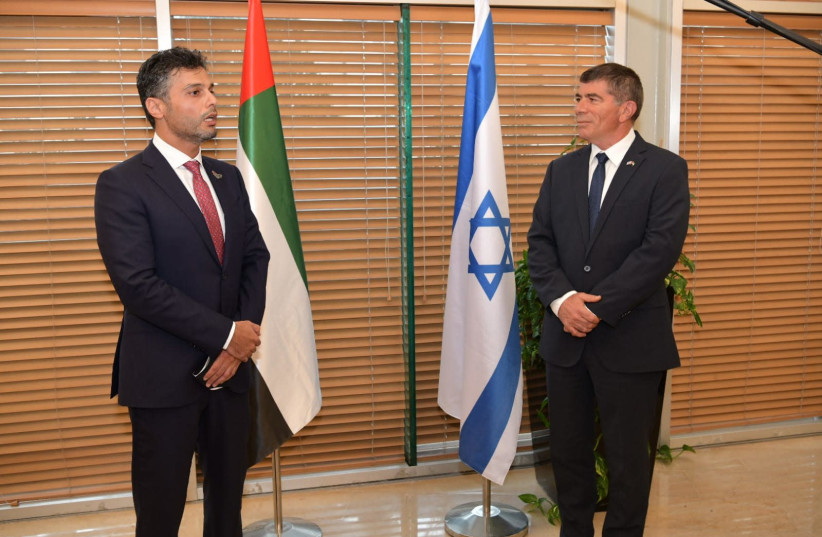 In The News
First-Ever UAE Ambassador To Israel Arrives
03/01/2021
The first Ambassador of the United Arab Emirates to Israel, Muhammad Mahmoud Al Khaja, arrived in Jerusalem on Monday, where he met with Foreign Minister Gabi Ashkenazi. 
Ashkenazi said it was "another historic day in the Middle East and a great step towards strengthening peace between our countries and nations."
"We have a historic opportunity to present a model of warm, comprehensive peace," he added.  
Ashkenazi said the exchange of embassies is "critical for establishing bilateral relations and promoting peace."
Khaja is expected to present his credentials to President Reuven Rivlin later on Monday, and then visit Yad Vashem. He may also meet with Prime Minister Benjamin Netanyahu this week.
The UAE ambassador will be in Israel for four days to scout a location for the Emirati embassy. He is expected to come to Israel full-time at the end of the month.
After meeting with Ashkenazi, Khaja also held a working meeting with the Emirati embassy's diplomatic staff and Foreign Ministry staff, led by Director-General Alon Ushpiz and Deputy Director-General for the Middle East Chaim Regev.
Read More: Jerusalem Post