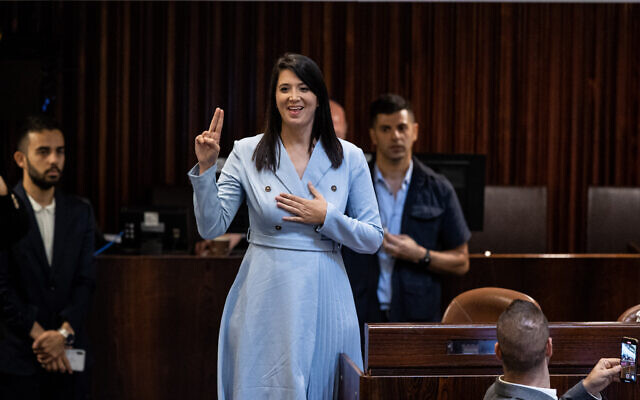 First deaf Knesset member gives maiden speech in sign language
Yamina MK Shirly Pinto, the first deaf lawmaker in the Knesset's history, gave her maiden speech to the Knesset plenum in sign language on Monday evening.
Pinto, whose words were voiced by her interpreter, Liat Petcho, gave thanks to her ancestors for bring her to this moment, marking the first ever speech delivered from the podium in sign language.
"Here I am, Shirly Pinto Kadosh," she began, following a quote from Psalms. She said her love of the State of Israel, of Jewish traditions, and arts and culture came to her through her parents and grandparents. "They answered every question I asked, and with every query I presented, they reminded me every day that where there's a will, there's a way."
Pinto, 32, entered the Israeli parliament following the resignation of one of Yamina's ministers through the "Norwegian Law," which allows any MK who is appointed to a cabinet post to step down temporarily from the Knesset, thereby permitting the next candidate on the party's slate to enter parliament in their stead.
Read More: Times of Israel