Incitement
Firebomb thrown at police post on Temple Mount as fresh violence erupts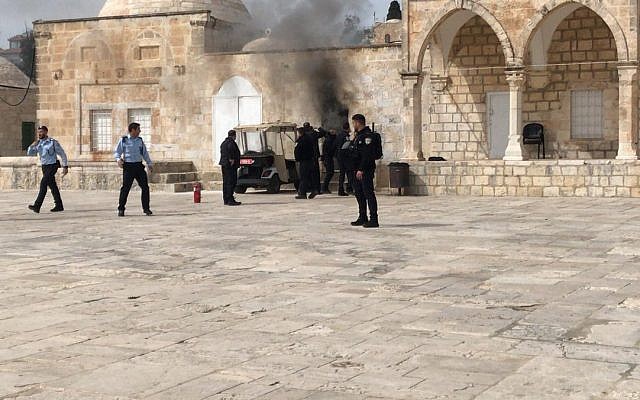 A firebomb was thrown at a police position on the Temple Mount in Jerusalem on Tuesday, prompting officers to make a number of arrests and close off access to the holy site, which has seen soaring tensions in recent weeks over a long-sealed area.
The police had no comment on any injuries in the attack.
"A short while ago, on the Temple Mount, a Molotov cocktail was thrown at the location's police post. An officer spotted one of the suspects and arrested him," police said in a statement.
Get The Times of Israel's Daily Edition by email and never miss our top stories Free Sign Up
Following the attack, police temporarily shuttered access to the volatile holy site, which has seen several confrontations between Israeli security forces and Muslim worshipers in recent weeks.
Muslim worshipers have repeatedly threatened to enter an area of the Temple Mount near the Gate of Mercy, which was closed by court order in 2003 over allegations that the group overseeing the site was tied to the Hamas terror group.
The longstanding closure of the area near the Gate of Mercy on the compound has ignited tensions between Palestinian worshipers and Israeli police in recent weeks. Worshipers have forced the area open and entered on several occasions.
Read More: Times of Israel