Syria
Filmed crossing into Israel with sick kid, mother says all Syrians want to come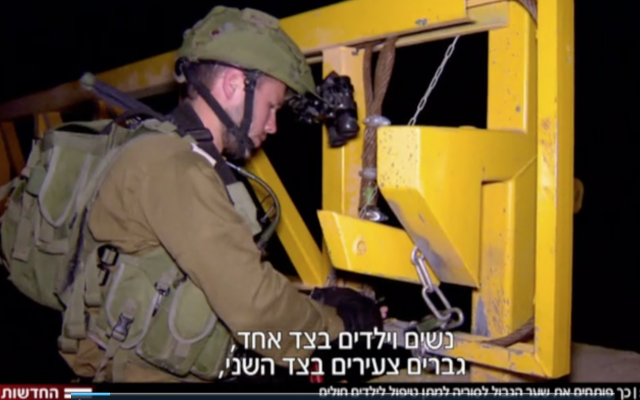 In unprecedented footage, the IDF allowed an Israeli TV crew to film it opening the border gates to Syria, and allowing in a group of mothers and their children, who were then transported to an Israeli hospital for medical treatment.
The footage, broadcast on Sunday night by Hadashot News (formerly Channel 2), also included interviews with several of the Syrian mothers, who expressed profound appreciation to Israel for the medical assistance.
Israel, which also maintains a field hospital on the border and has sent humanitarian aid to Syria, has treated 3,000 Syrians since it began offering medical assistance in the course of the civil war across the border, of whom almost 1,000 were children with chronic conditions. "The rationale" behind the outreach "is clear," the report noted: "A humanitarian imperative alongside a security need. Someone whose family or friend is given medical treatment in Israel will presumably change his attitude to the enemy."
"It has become unremarkable" for Syrian civilians to come to Israel for treatment," one mother told the TV interviewer. "Everyone wants to come here. Adults too; not just the children."
None of the faces of the Syrians were shown in the report, since the mothers and children will return to Syria when doing so is medically possible, and could face deadly repercussions if their treatment in Israel were to become known.
The TV report said 21 mothers and 23 children crossed the border on the recent night when the camera crew was allowed to film, and that the cases for treatment were selected by doctors in Syria. Several of the children were suffering with shrapnel wounds. One had severe asthma, for which his mother said no effective treatment was available in Syria.
The footage included tense minutes when the entry to Israel was being coordinated across the fence. The Syrian civilians were then shown walking across the border — carefully watched by armed IDF soldiers — then boarding a coach, with an accompanying ambulance, en route to Ziv Hospital in the northern Israeli town of Safed. The mothers wore headscarves and long coats; many of the children wore jeans.
"This must be very strange for them," an IDF officer named Gil Giladi said at the border. "They're dealing with 'the enemy.'"
Speaking to the TV reporter, one Syrian mother said that, in the past, "Israel was thought of as the enemy… Now that you are helping us, most [on the Syrian side of the Golan] are with you. They love Israel. They see the true face… the reality."
So who do they think of as "the enemy now?" the reporter asked.
"All of them: Islamic State, Hezbollah, Bashar [Assad]. They're all the same," answered one of the mothers.
Read More: Times of Israel