US-Israel Relationship
Donald Trump Jr. calls out BBC over Jerusalem attack headline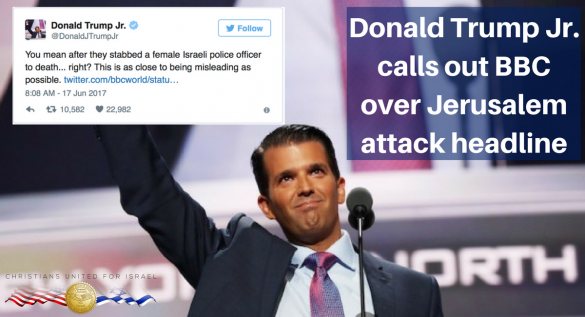 US President Donald Trump's son, Donald Jr., on Saturday called out the BBC for a headline on the Jerusalem terror attack that neglected to mention the Israeli Border Police officer stabbed to death, and focused only on the three Palestinians killed without noting that they were the assailants.
"Three Palestinians killed after deadly stabbing in Jerusalem," read the BBC tweet.
Trump Jr. immediately tweeted back: "You mean after they stabbed a female Israeli police officer to death… right? This is as close to being misleading as possible."
"Need a new term for this nonsense. Sort of the opposite of victim blaming. How about Culprit Coddling? Maybe Criminal Cozying? Thoughts???," he tweeted.
At time of writing, the headline of the BBC article linked to the tweet did note that the officer was killed in the attack, stating "Israeli policewoman stabbed to death in Jerusalem."
On Friday, three Palestinians armed with an automatic weapon and knives carried out near simultaneous attacks at two locations near the Damascus Gate, close to Jerusalem's Old City.
Border Police Staff Sgt. Hadas Malka, 23, was stabbed to death. According to the Border Police statement, Malka was part of a group of officers responding to sounds of gunfire near their area of patrol close to Damascus Gate, when she was attacked. Nearby troops shot and killed the assailants.
At least four more people were injured in the attacks, including another policeman. They all sustained light to moderate wounds and were being treated in hospital.
Read More: Times of Israel