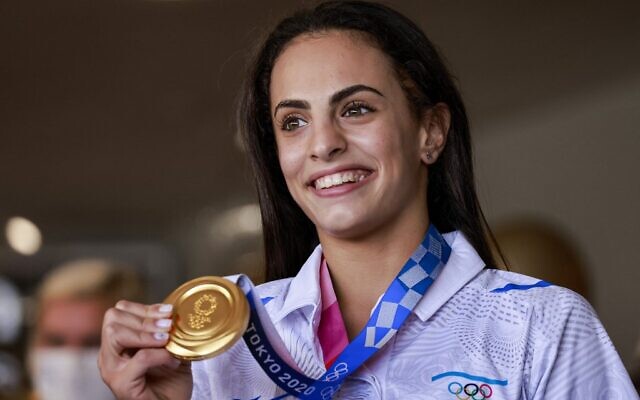 In The News
'Delighted to be back in Israel': Olympic champion Linoy Ashram welcomed as hero
With a gold medal dangling around her neck, Israeli Olympic champion Linoy Ashram was given a hero's welcome Wednesday when she arrived back in Israel following the end of the Olympic Games in Tokyo earlier this week.
Ashram, who won the rhythmic gymnastics individual all-around event on Saturday, was received at the airport by hundreds of friends, family members and fans who had prepared signs emblazoned with the new Olympic champion's face and messages of support.
"I have no words. This is one of the craziest experiences I have had in my life. I will not forget this reception my whole life. Thank you all for your love and warmth," Ashram told the crowd.
"I am delighted to finally be back in Israel. You are the best crowd of people anyone could ask for," she said, beaming.
Standing alongside teammate Nicol Zelikman, who finished seventh in the final, Ashram thanked "all those who came here to receive Nicol and me after our crazy achievement."
Read More: Times of Israel