US-Israel Relationship
Decrying 'Abominable' PA 'Martyr Payments' Policy, Former US Officials Pledge Support for Taylor Force Act at Senate Hearing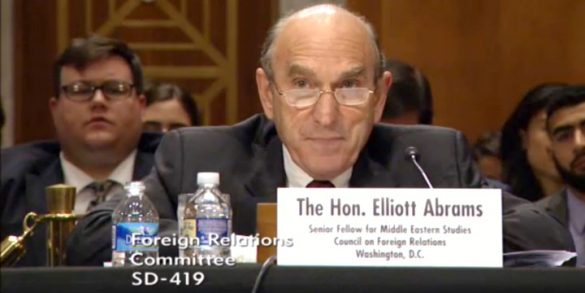 Former top US diplomatic official Elliott Abrams told the Senate Foreign Relations Committee on Wednesday that Washington should suspend payments that directly benefit the Palestinian Authority (PA) until it ends its policy of "martyr payments" to the families of convicted Palestinian terrorists — a practice deemed "abominable" by former US Ambassador to Israel Daniel Shapiro in remarks to the same panel.
Abrams — who served as an assistant secretary of state in the Reagan Administration, and later as special assistant to President George W. Bush — was giving testimony before the committee in support of the 2017 Taylor Force Act. Named for former US Army officer Taylor Force — the American fatality of a March 2016 Palestinian stabbing attack in Israel in which 11 other people were wounded — the act, if passed, would place severe restrictions on American aid money to the PA until it ends both incitement to terrorism and the "martyr payments" policy.
"Since the Hamas victory in (Palestinian) legislative elections in 2006, USAID has distinguished between assistance to the Palestinian Authority and aid to other recipients, such as NGOs and municipalities," Abrams told the committee. "In my view, all the payments that give assistance to or directly benefit the PA itself should be stopped."
Abrams said that such a move would cut US aid to the Palestinians "roughly in half."
"Considering the very great pressure on the foreign assistance budget right now, how could we justify continuing all these programs and payments to the Palestinians, while they continue to use money to reward terror?" Abrams asked.
Read more: Algeminer